'Trial & Error' is the new 'The Office,' 'Parks and Recreation' — according to Twitter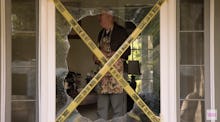 It looks like NBC might have another great comedy on its hands. 
Following the success of The Good Place and This Is Us, the peacock network is having a moment. Trial & Error premiered on Tuesday night and it has earned exceptional reviews across the board. It's already earning comparisons to other NBC single-camera comedies like The Office and Parks and Recreation — and Twitter is loving it. 
Trial & Error focuses on the arrest and ensuing trial of a small town's poetry professor in South Carolina. He is accused of murdering his wife and a young lawyer is hired for him along with a team of questionable characters. The show is a spoof of crime documentaries, which is why people are noticing similarities to Making a Murderer and The Jinx.  Meanwhile, the documentary style of filming is what is drawing the comparisons to The Office and Parks and Recreation.
Twitter seemed to love the Tuesday night premiere.
And many seemed to enjoy the similarities to The Office and Parks and Recreation.
Trial & Error boasts and all-star cast. John Lithgow, Sherri Shepherd, Adam Shapiro, Jayma Mays, Nicholas D'Agosto and Steven Boyer make up the show's ensemble. The series comes from the minds of Jeff Astrof and Matthew Miller, known for their work on New Adventures of Old Christine and Chuck, respectively. 
You can catch an all new episodes of Trial & Error Tuesdays on NBC at 9:00 p.m. and 9:30 p.m. Eastern. If you missed the pilot, you can stream it on NBC.com right now. 
Mic has ongoing TV coverage. Please follow our main TV hub here.