When will Dave Chappelle's 2017 Netflix special premiere?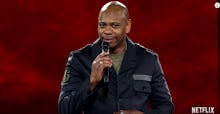 Two of Dave Chappelle's highly anticipated Netflix stand-up comedy specials now have a solid release date. The prerecorded performances are set to hit the streaming platform Tuesday, March 21. 
The veteran comedian's return comes 12 years after he exited his successful self-titled hit Comedy Central show to get away from the spotlight and focus on raising his family. Now, more than a decade later, Chappelle continues to hit cultural topics and current events head-on, as he's always done, and this time around he's tackling ISIS and terrorism, race and even O.J. Simpson, a new trailer below reveals:
Chappelle's latest stand-ups were performed in Los Angeles and Austin, Texas, and they arrive courtesy of his "personal comedy vault," according to the special's description on Netflix. 
Last November, we had a sample of Chappelle's new comedy as he made his Saturday Night Live hosting debut with musical guest A Tribe Called Quest, taking on the recently elected Donald Trump in his opening monologue. Tribe's "We the People" protest song also serves as the promo music in Chappelle's trailer. 
In the initial November announcement of Chappelle's return, Netflix promised that it would be streaming three of his stand-up comedy specials in 2017. There is no word yet as to when Chappelle's third special will premiere.
Mic has ongoing Dave Chappelle coverage. Please follow our Dave Chappelle hub here.