'The Flash' season 3, episode 17 spoilers: What will happen in "Duet"?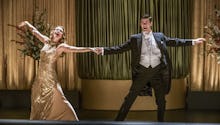 On Tuesday night's The Flash, Barry Allen traveled into the Speed Force in an attempt to save Wally West from an eternal prison — specifically, being forced to watch his mother die in an endless time loop. Along the way, Barry ran into a few faces from his past, including Eddie Thawne, Ronnie Raymond and Captain Cold, all of whom died in previous seasons (Captain Cold died on Legends of Tomorrow). 
"Into the Speed Force" had a similar tone to an episode from last season in which Barry was trapped in the Speed Force. The faces that appeared to him were not ghosts of his departed friends, but rather the Speed Force appearing to him in forms that he recognizes. And just like last time, Barry was being taught a lesson — in this case, only he can stop Savitar. 
After avoiding an unpleasant encounter with a time wraith, and defeating Black Flash, Barry is eventually able to save Wally, but at a cost. A speedster has to take Wally's place in the prison. And though Barry wants to make that sacrifice, it is Jay Garrick who does instead. And if things were not heavy enough, the episode ends with Barry essentially breaking up with Iris so that he can focus on saving her. 
Fortunately, if you thought that "Into the Speed Force" was so intense of an episode that you need some lighter fare next week, you are in luck. In season three, episode 17 of The Flash, titled "Duet," Supergirl will be traveling to Earth-1 for a very special musical crossover. 
Toward the end of next week's episode of Supergirl, Kara is going to be rendered unconscious by the Music Meister, forcing Mon-El and J'onn J'onzz to travel to seek out help. It will be up to Team Flash to step in and save her, but along the way, Barry too will get trapped in ... a movie musical? That's right! There will only be one way for Barry and Kara to save themselves — singing and dancing. 
For those that need a little more context, do not worry, here is the official synopsis for "Duet":
Barry (Grant Gustin) and team are surprised when Mon-El (guest star Chris Wood) and Hank Henshaw (guest star David Harewood) arrive on their Earth carrying a comatose Supergirl (guest star Melissa Benoist) who was whammied by the Music Meister (guest star Darren Criss). Unable to wake her up, they turn to Team Flash to save her. However, the Music Meister surprises the Flash and puts him in a similar coma, one that Team Flash can't cure. Kara and Barry wake up without their powers in an alternate reality where life is like a musical and the only way to escape is by following the script, complete with singing and dancing, to the end. 
Need a bit more of a preview to hold you over? Here is an extended promo for season three, episode 17 of The Flash: 
Season three, episode 17 of The Flash, titled "Duet," will air on Tuesday, March 21 at 8 p.m. on the CW. The crossover will begin during the March 20 episode of Supergirl. 
Mic has ongoing coverage of The Flash. Please follow our main The Flash hub here.