21 perfect tweets that sum up what it was like to watch Rachel Maddow's tax return segment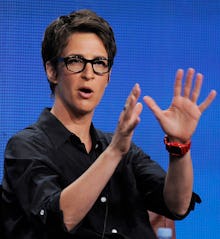 On Tuesday evening, MSNBC host Rachel Maddow announced in a tweet that she had "Trump tax returns" and urged viewers to tune into her show that night at 9 p.m. 
Tune in they did — but it was clear from reactions on social media that people weren't expecting Maddow to take quite so long revealing the two pages of President Donald Trump's 2005 tax returns. 
Here are some perfect tweets that capture what it felt like to get super excited for a big surprise... and then wait through what felt like years of exposition, history and background before Maddow revealed her scoop.
But, despite the long wait for the big reveal, some people found ways to look on the bright side: