A lingerie store was told to remove ads with disabled and plus-size models. It refused — and won.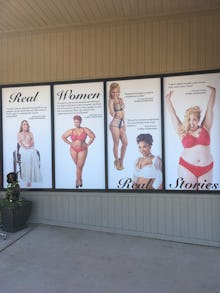 Shouldn't a lingerie boutique be able to celebrate the diversity of its customers without controversy?
In February, Georgia lingerie boutique Livi Rae Lingerie's owners Molly Hopkins and Cynthia Decker launched an in-store campaign featuring a diverse array of women, like Tisa Edge, a woman of color; Stacey Shortley, who uses a wheelchair; and plus-size models Marie Layne and Bubble Bordeaux. All the women were decked out in Livi Rae lingerie. 
For a company like Livi Rae, which specializes in inclusive lingerie sizing and is even at the center of the Lifetime TV show Double Divas, about Hopkins and Decker's quest to revolutionize the lingerie world, the campaign fit right in. 
"When I look at this ad campaign on our windows, I see me, I see someone I can relate to," Decker told 11 Alive, the local NBC affiliate.  
And it's not like this was a first for Livi Rae Lingerie. Of course, being a lingerie store, it had posted campaigns in front of its store before, and featured professional models in lingerie. But for reasons the owners of Livi Rae are pegging on body shaming, their property manager took offense to this highly inclusive Valentine's Day campaign, and asked them, for the first time ever, to take their display down.
"We did this campaign to promote body positivity and that when you come in here it's a judgment-free zone," Hopkins told 11 Alive. 
According to the store's owners, the property manager told them the ads were "in bad taste" and that Hopkins and Decker were in violation of their lease, which stated that all advertisements have to be approved ahead of time. 
However, in the past seven years that Livi Rae has been in business there, they have never once had to ask for approval for their ads. It's only this time, when the ads celebrate women of various races and body types and abilities, that the ads are a problem. 
"In the seven years that we've been in this location we've never had to have approval for any ad we put up," Hopkins told 11 Alive. "It's Kennesaw, and it's Georgia, and it's real, and it's women and it's us."
The ordeal quickly made waves on social media, with the hashtag #NoShameLiviRae popping up on Twitter. 
But with support from people across the country, Hopkins and Decker stood their ground — and now it's paid off. On Tuesday, the store announced on its Facebook that their property manager has backed down. 
"Due to the overwhelming response from our customers and fans, our property manager just called to let us know we can KEEP our window display in tact! They heard you loud and clear," the store wrote. "As a national company, they said they do not believe in discrimination of any kind and support our 'Real Bras, Real Women, Real Stories' campaign and all of the images used on our storefront." 
It seems like, in this instance, the power of the people prevailed. But the question still remains: Why, in 2017 especially, was this ever a controversy at all?