This anti-abortion group is trying to replace Texas Planned Parenthood — and failing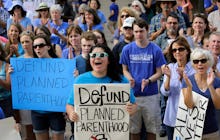 As the Republican party continues on its warpath to defund Planned Parenthood across the country, an anti-abortion group in Texas is trying its hand at funding its own alternative.
In 2016, the state of Texas allocated $1.6 million in funds to the Heidi Group, an organization with hopes of bolstering smaller clinics that offer low-income health care to women so that they might thrive in the absence of Planned Parenthood.
According to the Associated Press, these clinics typically offer breast exams, cancer screenings and contraceptives — much of the same offerings as Planned Parenthood except for abortion, which, after all, only accounts for roughly 3% of the clinic's services.
But while members of the Heidi Group may have had the time and money to at least attempt to make Planned Parenthood obsolete, they've had little success. Eight months out, the group has reportedly failed to put a dent in its goals for both outreach and publicity and has yet to launch a 1-800 line or update the clinics' websites.
Carol Everett the head of the Heidi Group, said her organization isn't entirely to blame.
"We worked on one Facebook site for three months and they didn't want to do it. And we worked on websites and they didn't want to do it," Everett said of the clinics. "We can't force them."
Planned Parenthood representatives aren't surprised the Heidi Group is having a hard time offering the same range and quality of care their clinics offer.
"Every time they try to relaunch one of these women's health programs, without some of the most trusted providers in women's health, every single time they come up short," Texas Planned Parenthood spokesperson Sarah Wheat told the AP. "And they show their lack of understanding and respect for what women need."
The Congressional Budget Office's latest report found that the GOP's proposed cuts to Planned Parenthood would result in 15% of Americans losing access to birth control and abortion. And without these reproductive choices, "several thousand" women on Medicaid will end up birthing children they wouldn't have had otherwise.
Texas has already seen firsthand the effects of dwindling reproductive care options. When the state slashed funding to abortion providers in 2011, 82 family-planning clinics shuttered, one-third of which consisted of Planned Parenthood facilities. As a result, 30,000 fewer women received health care services through  a Texas women's health program, according to the AP.  
Currently, Texas' Planned Parenthood clinics meet the needs of 126,000 patients — and the Heidi Group is working to accommodate 70,000 of them.
 "It's not as easy as it looks because we are not Planned Parenthood," Everett said.