'Full Throttle Remastered' Release Date: Here's when you can play the old-school classic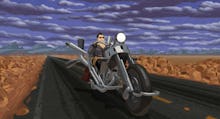 Full Throttle Remastered, a revamped version of the 1995 classic developed by LucasArts, is getting the 21st-century treatment from Double Fine Productions — the development company led by Tim Schafer, who designed the original Full Throttle. It will be available April 18 on PC, PS4 and PS Vita.
That's great news for fans of Schafer's brand of wacky, smartly designed adventure games, as it's just the latest in a growing roster of remastered games from the '90s. Double Fine has already released Day of the Tentacle Remastered and Grim Fandango Remastered, so Full Throttle Remastered will be in good company when it launches in a few weeks.
Full Throttle Remastered will have a totally fresh look, but you'll be able to swap back and forth between the original art style and the new version at any time.
Its base price is $14.99, but it's available for $11.99 for PS Plus members and for anyone who pre-orders it on PC through GOG.com.
Full Throttle Remastered trailer
More gaming news and updates
Check out the latest from Mic, including our deep dive into how female Overwatch players are dealing with online harassment, a cool making-of video for Legend of Zelda: Breath of the Wild and an article about what a Bechdel test for gaming might look like.