After Thinx employees call BS on brand's feminism, this trans activist and model is speaking out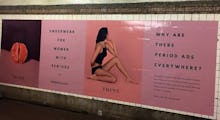 It'd be easy to assume that a company that specialized in underwear for people who get periods, one that launched highly inclusive campaigns with transgender models and women of various different sizes, would be, you know, a cool one to work for. But according to a bombshell report from Racked, titled "Thinx promised a feminist utopia to everyone but its employees," that's not always the case. 
The company at the center of this scandal is Thinx, the period underwear company that made headlines after its ads were nearly banned on New York City subway cars and marketed itself as one of the most inclusive, progressive and feminist workplaces in existence. 
But according to Racked, it hasn't been such an inclusive, progressive or feminist workplace, with several employees speaking out against the company's policies, its work culture, lack of benefits, disorganization and leadership, with former Thinx CEO Miki Agrawal at the center of it all. 
"Behind the scenes, many current and former employees paint a picture of dysfunction and hypocrisy, with clashes between Agrawal and key members of her team, employment policies that seem to fly in the face of the company's women-first messaging and an increasingly volatile work environment that's led many of those who were instrumental in creating the brand to tender their resignations," Hilary George-Parkin, the author of the Racked report, wrote. "According to several sources, 10 people have left the 35-person company since January." 
There's certainly a lot to unpack in this lengthy report, from how the company handles firing its employees and conflict within the company to a surprisingly lacking parental leave policy when the company prides itself on being progressive and supportive of women. 
In response to the story, Thinx told Mic: "In light of the concerns raised in the Racked story: our leadership is getting to the bottom of these allegations, and, as ever, we are actively working to address and improve our corporate culture. We look forward to updating the community as new leaders and corporate processes are put into place. Thank you, everyone, for bearing with us in the meantime." 
But since the report has been published, several people have come out to double down on these unflattering claims, including activist and model Tyler Ford, who identifies as transgender and agender (meaning they not identify themselves as having a particular gender).
On Tuesday, Ford took to Twitter to talk about their own troubling experience with the company, and how Thinx attempted to tokenize Ford as a model. 
"I've never spoken about my experiences with Thinx because they were too humiliating/upsetting to talk about publicly," Ford wrote. "But this article has brought back that terrible feeling in the pit of my stomach, so I might share."
As Ford explained, Ford was introduced to Thinx because a friend thought Ford be a great fit as a model, especially since the company was already seen as super inclusive when it came to gender identity, hiring a transgender model for one of its campaigns back in May. And Ford saw this as an amazing opportunity to talk about being a non-binary trans person who gets their period, and to shut down the idea that periods have anything to do with gender. 
But from the start, Ford was turned off. When Ford first spoke to Thinx, it shut them down, saying it already had a trans model. Then, Thinx asked Ford if they even got their period. After they responded "Yes," then Thinx became interested and wanted to work with Ford. 
But then Ford worked with them, and it wasn't a great experience either. For an event at New York Fashion Week, Ford was notified that they'd be paired up with another trans-identifying person and was given a script that horrified them, because it was essentially harassment. 
At that point, Ford felt like a prop for Thinx to use to appear inclusive and feminist.
But Ford still tried to collaborate on this speech with Thinx for the NYFW event, and even for that, Ford felt incredibly uncomfortable and, again, like a prop. 
So Ford ended up quitting the show. And this is just one story. 
In response to Ford, Thinx has issued an apology of its own. 
"We are devastated to hear about Tyler's account of their experience at the THINX fashion show," a Thinx spokesperson told Mic. "The hypocrisy of it all... we see it. Thinx seeks to break barriers for the marginalized and uplift the silenced, and clearly, we still have a way to go. From the bottom of our hearts, we'd like to extend our deepest apologies to Tyler and the LGBTQIA community. Tyler, we recognize that we are undeserving of the lessons you are so gracefully teaching us — but we promise to learn from your bravery and do better."
What this Racked story reveals is that even the companies that pose themselves as progressive and inclusive and feminist could very well be an entirely different story behind the scenes. It also reveals that being feminist and inclusive has become such a powerful and effective marketing technique that now companies are willing to put up this facade while acting like an entirely different company behind closed doors.