Lorde doesn't care if you didn't like her dancing on 'Saturday Night Live'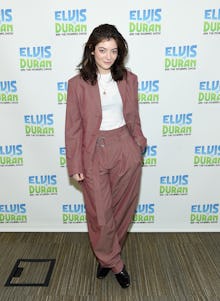 Dance like no one is watching — and that is exactly what Lorde did on Saturday Night Live. 
The March 11 episode was hosted by Scarlett Johansson, but Lorde's dancing garnered the most attention. The singer performed her new songs "Green Light" and "Liability," and it was during her performance of "Green Light" that Lorde really felt the music. 
Social media users instantly took to the internet with reactions, and many had a lot of mixed opinions on her moves.
Following these reactions to her performance, the singer is now speaking out. She took to Facebook on Monday to air her feelings regarding her performance. 
In true Lorde fashion, she doesn't care what you think. "One day, I will do a normal dance choreographed by a nice person and I will look more like your other favorite performers, but we have not yet reached that day," she wrote. 
Live your life, Lorde. Watch her SNL performance of "Green Light" below.
Mic has ongoing music coverage. Please follow our main music hub here.