Kesha calls Trump the "commander in chief of trolls" in interview discussing bullying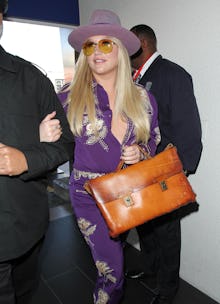 Kesha has spoken out again against President Donald Trump's leadership. In an interview with Refinery29 at the 2017 South by Southwest festival, the singer said that the president's rhetoric is "divisive, cruel and sometimes racist." Kesha also called out Trump's use of Twitter to comment on anything mentioning his name. 
"I think he is the commander in chief of the trolls," she proclaimed. 
Kesha explained that she had been proud to have former President Barack Obama — "an intelligent, distinguished and kind man" — speaking on the country's behalf. But to Kesha, Trump's behavior is the opposite and his presidential platform is not a good representation of America.
When people, and especially kids, see the president acting so negatively towards others, I think that it can cause them to justify similar behavior in their own lives — and that's not okay. We need a leader who promotes unity and acceptance, who treats others how they themselves would want to be treated.
Just this past day, Trump showed that he has no filter when he tweeted about his 2005 tax return surfacing and Snoop Dogg's new music video, in which the rapper points a gun at an actor playing a Trump clown.
Before speaking on Trump's antics, Kesha discussed how she goes about dealing with trolls on the internet as a celebrity with 3.76 million followers on Twitter. She has found ways to not let them get under her skin, although she has coped with mental illnesses in the past.
I try to remind myself that these are just people hiding behind a screen, saying things they would never say to your face. I try to limit the power of trolls by just ignoring them and limiting the time I spend with social media.
The conversation happened around Kesha's appearance this week at SXSW, where she spoke with high school students at an anti-bullying workshop. 
Kesha previously claimed producer Dr. Luke, who she is currently in a legal dispute with, would speak to her negatively about her weight gain, which is one of many reasons she wants to sever ties with him. The artist posted the following message on her Instagram page Tuesday about overcoming negative perception of her body image. 
What I love most about being in recovery is that my BODY is MY BUSINESS and NO one else's. And I fucking love it. most days. ((some days I don't)) BUT THE BEAUTY is that my BODY does not determine my WORTH anymore.
Kesha also previously spoke out about her battles with an eating disorder in a PSA at the beginning of March for National Eating Disorders Awareness Week. 
Mic has ongoing Kesha coverage. Please follow our Kesha hub here.