Kal Penn is tweeting out his old audition scripts — and they're unbelievably racist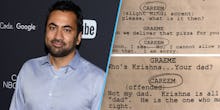 Stereotypes, accents and nameless "foreign" characters are all the reality when looking for work as a South Asian actor.
On Tuesday, actor Kal Penn tweeted out a series of snapshots from scripts that he'd auditioned for in the past, most of which included racist caricatures of South Asian culture.
The first screenshot showed a call for a "Gandhi Lookalike," "Snake Charmers" and "Fire Eaters."
For another role, a character named "Careem," Penn remembered that he was asked to make the accent a little more "authentic." That request often meant they wanted him to sound like Kwik-E Mart owner Apu Nahasapeemapetilon from The Simpsons, he explained.
For another audition for a TV pilot, Penn said he asked to play a character, Parmesh, without an accent. His was request was denied.
Penn said that while auditioning for Disney Channel's Smart Guy, he wasn't given a first name — until it became the butt of a joke at his expense.
Penn said he was a fan of the Kevin James sitcom King of Queens — until he was sent a script where a character on the show was having trouble pronouncing the name "Sanjib."
As Penn's series of tweets unfolded, the overwhelming theme became clear: many of these characters were the butt of the joke rather than being allowed to be funny. In another script, he played a character who was only there to be set up for his accent and heavy cologne.
When Penn stopped sending out screenshots, he said it wasn't for lack of examples.
He pointed out other shows — The Steve Harvey Show, Buffy the Vampire Slayer, Angel and 24 — that he said did not try to use his race as the butt of a joke.
"Really smart, creative people who didn't have to use external things to mask subpar writing," Penn wrote.
Finally, he tweeted out a ratings sheet from House, on which Penn was a series regular, with a reminder that diverse casting often leads to great ratings.
Penn is right about the value of diversity. Embracing onscreen and off-camera diversity helped save ratings-hungry networks like Fox and ABC.
Diversity isn't just a magic formula for television. Movies that feature nonwhite actors get better returns on their investments than those that feature a monochromatic white cast — even if Hollywood hasn't fully received that message. This year, Indian actor Dev Patel scored the third nomination ever for an Indian actor in the history of the Academy Awards. Only one Indian actress, Merle Oberon, has gotten attention from the Oscars.
Aziz Ansari tackled the problem of South Asian representation on his hit Netflix show Master of None in an episode titled "Indians on TV." In the episode, Ansari's character, Dev, a casting director refuses Ansari a role because he won't do an Indian accent. The justification?
"Ben Kingsley did an accent for Ghandi," the casting agent says.
When Master of None creators Ansari and Alan Yang accepted their Emmy award onstage, Yang called for greater representation of Asian-American stories on television, as well.
"There's 17 million Asian-Americans in this country, and there's 17 million Italian-Americans," Yang said. "They have The Godfather, Goodfellas, Rocky, The Sopranos. We've got Long Duk Dong."