Why did Orson Welles never finish 'The Other Side of the Wind'?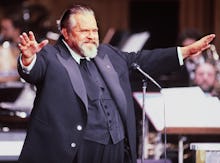 The Other Side of the Wind, the famously incomplete film by legendary actor and director Orson Welles, will finally be finished thanks to a group of devoted artists and a little help from Netflix. The DVD and streaming service has secured the global rights for the film and has committed to providing financial backing to restore and complete the movie.
The comeback film 
Intended as Welles' comeback, aspiring to top the success of Citizen Kane, The Other Side of the Wind was shot between 1970 and 1976. Beset by logistical and financial problems, the shoot was intended to last for eight weeks, but it eventually stretched over the span over six years. 
Starring John Huston as Jake Hannaford, a film director past his prime, the movie's supposed plan was to feature footage of the character's birthday party that tragically concludes with his death, cut with shots from the art film that would serve as his own comeback. The cast also included Peter Bogdanovich, Oja Kodar and Susan Strasberg.
An endless shoot 
Welles began shooting without a complete script, and indecision, cast changes and the director's notorious perfectionism all delayed the shoot even further. Few cast members understood what Welles was attempting to accomplish with the film, whose financing was so sporadic that Welles would stop shooting and take on other projects such as TV shows, movies and advertising, to earn money to fund The Other Side of the Wind.
Following the six years of filming, Welles continued to work on and fight for the film, attempting to secure financing while retaining creative control — all unsuccessfully. He died in 1985, having never completed The Other Side of the Wind. 
Indiegogo and Netflix 
Through a decades-long attempt, a group of producers has tried to complete The Other Side of the Wind. The team, which includes Bogdanovich, Frank Marshall, who was a line producer on the film, and Filip Jan Rymsza, obtained the rights to the reels of film which had been stored in a warehouse outside Paris — 1,083 reels total. 
Through an Indiegogo campaign, they attempted to raise $2 million to pay for the work, but only raised $406,605. The producers went silent for almost two years, much to the supporters' frustration, before they announced Netflix was coming on board. The film reels are now in Los Angeles, where Marshall and Bogdanovich will work on the editing with the help of Welles' handwritten notes and their own memories of the film. 
Mic has ongoing movies coverage. Please follow our main movies hub.