Planned Parenthood to run $1M campaign to troll Trump, highlight breast cancer screenings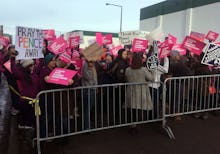 Planned Parenthood is launching a $1-million campaign that will simultaneously troll President Donald Trump and highlight the importance of the breast cancer screenings it provides.
In partnership with the Cancer Survivors Network, the health care organization is funding televised and digital ads to run on Trump's favorite networks and programs for one week in some of his most frequented cities: New York; Washington, D.C.; and West Palm Beach, Florida, according to a press release.
The spot juxtaposes some awkward praise the president once offered Planned Parenthood with respect to cancer exams — "Millions and millions of women, cervical cancer, breast cancer, are helped by Planned Parenthood," Trump said during a primary debate — with testimony from cancer survivor Jaime Benner, whom Planned Parenthood helped with receiving immediate treatment after she found a lump in her breast.
"Had Planned Parenthood have not have gotten me that appointment, I probably wouldn't be around," Benner says in the ad.
The American Health Care Act — aka Trumpcare — would cut the $500 million Planned Parenthood receives annually from the federal government in the form of Medicaid and Title IX grants. By far the majority of those Medicaid funds Planned Parenthood go toward services like cancer screenings, but because many (but not all) Planned Parenthood locations also perform abortions, conservatives have long gunned to shut the entire operation down.
That Planned Parenthood offers breast cancer screenings has caused an unexpected degree of controversy — who could take issue with cancer prevention? The ruckus surrounding breast cancer screenings rooted in some conservatives' conflation of mammograms with breast exams. Planned Parenthood performs an estimated 360,000 breast exams annually, and reports that 10% of what it does relates to cancer patients, versus the 3% of its services that pertain to abortion. It does not perform mammograms, though. 
Sean Deming, a Planned Parenthood protester with whom Mic spoke in February, heartily disagreed. He argued that abortion was the health care provider's sole business, and that they lied about providing breast exams to cover up their booming enterprise. "They don't do mammograms," Deming asserted. "They offer shoddy services."
At a 2015 hearing, House Oversight Committee Chairman Jason Chaffetz attempted to embarrass Planned Parenthood President Cecile Richards, but actually just embarrassed himself, by making essentially the same argument as Deming. Richards reminded him that Planned Parenthood does what any gynecologist would do: Refers patients to radiology centers for mammograms, should a breast exam reveal something suspect.  
"We know that for the women whose cancer has been detected at our health centers, this is a matter of life or death," Dr. Raegan McDonald-Mosley, Planned Parenthood's chief medical officer, said in the press release. "We are steadfast in our fight to make sure anyone can receive the care they need, no matter what."