Who is Dmitry Rybolovlev, the Russian oligarch who paid Trump $95 million for a mansion?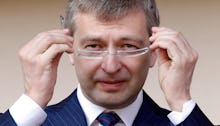 On Tuesday night's episode of The Rachel Maddow Show, the MSNBC host dug into two leaked pages from President Donald Trump's 2005 tax returns — but it took her a while to get around to the scoop. 
Maddow spent the first few minutes of her show offering background on some of Trump's financial dealings, including his past connection to Russian billionaire Dmitry Rybolovlev, who purchased a home from Trump for $100 million in 2008, just four years after Trump bought it for only $41 million, CNN reported in July.
Who is Rybolovlev and why did he spend so much money on a home that, as CNN reported, he's never actually lived in?
According to Forbes, Rybolovlev, 50, studied medicine at the Perm Medical Institute in Russia. In 1990, he went into business with his father, a scientist. In 1992, Rybolovlev opened an investment fund and purchased enough shares in "industrial enterprises," Forbes reported, that he consolidated his shares and became chairman of the board at Uralkali, a massive Russian fertilizer producer, in 1995. This earned him the nickname "the fertilizer king," Politico reported in July.
Rybolovlev also spent nearly a year in a Russian prison on murder charges in 1996, which were later cleared, according to Politico.
In 2010, Rybolovlev sold his shares in Uralkali for $1 billion, according to Forbes. And his big 2008 purchase from Trump isn't his only major real estate dealing. Forbes reported that Rybolovlev "apparently" paid more than $300 million for his current home, a penthouse in Monaco. And his daughter, Ekaterina Rybolovleva, owns both a Greek island and a New York City apartment, purchased for $88 million. Forbes estimates Rybolovlev's net worth at $7.3 billion.
So what is Rybolovlev's connection to Trump? In 2004, Trump purchased the Maison de l'Amitie, a 17-bedroom Florida mansion. Trump paid $41 million for the house at auction.
In 2008, despite a "looming recession," Politico reported, Trump sold the property to Rybolovlev, who paid an astounding $95 million for it. In July of 2016 Politico reported that the estate was valued at $81.8 million, significantly less than what Rybolovlev paid for it years earlier.
Trump has said that the two never met during the dealings, saying in an interview that "I never met him. He was represented by a broker," and that Rybolovlev "just happened to be from Russia. He's a rich guy from Russia," Politico reported.
But Maddow has brought up Trump's dealings with Rybolovlev before Tuesday night's show — and their connections could go beyond a single real-estate transaction. 
In an episode in February, Maddow suggested Rybolovlev had purchased the Florida mansion from Trump as a way of hiding his assets during a divorce from his ex-wife. Maddow also questioned the claims that the two had never met during the transactions. She further pointed out that the deal earned Trump millions of dollars just at the right time, while he was "fighting very hard, among other things, to avoid paying off a big loan that he had with Deutsche Bank."
Rybolovlev is major shareholder in the Bank of Cyprus, Maddow said, along with a "close personal friend and business associate" of Russian President Vladimir Putin. That friend of Putin's is one of two vice chairmen of the bank — the other is Wilbur Ross, Trump's friend and now the U.S. secretary of commerce.
Maddow called the real estate deal between Trump and Rybolovlev a "mysterious windfall infusion of cash" that came "at the right time for now-President Trump." And all of the connections between the two, Maddow said in February, are "like a rope ladder hanging down from the ceiling begging people to crawl up this and look around."