'Kingdom Hearts 3' News: Story spoilers seemingly revealed onstage during 'KH' concert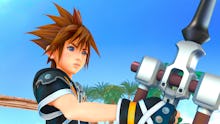 Need to wet your whistle with a cool, refreshing glass of Kingdom Hearts 3 news? We've got you covered. But before you get too excited, you should know it's not about the game's release date — which still has yet to be announced.
This time around, the news comes courtesy of a special Kingdom Hearts-themed orchestral concert currently on tour. According to social media reports from concertgoers, one of the game series' voice actors read lines in character that shed some light on what's going on in the time leading up to  Kingdom Hearts 3.
(Editor's note: Potential spoilers for Kingdom Hearts 3 ahead.)
Kingdom Hearts 3 spoilers: Story details revealed
According to International Business Times, Rise Uchida — who voices characters Kairi and Xion — performed dialogue as both characters onstage during Saturday's concert in Tokyo. Twitter user momo_krys translated what Uchida said as Kairi, which seemed to confirm Kairi and Lea are training to become keyblade wielders in the time leading up to Kingdom Hearts 3.
Here's the relevant bit of dialogue translated by momo_krys, spoken as if Kairi is addressing Sora, the series' protagonist:
I didn't notify you, but you might've already heard from Yen Sid. I've come to train to become a keyblade wielder. Until now, I've only been waiting for you guys to come back from your journey. Maybe with this, I can at least help out a little.
It's not clear whether these spoken portions of the concert will continue throughout the orchestra's worldwide tour. Mic has reached out to Square Enix for clarification and will update this post if we hear back.
More gaming news and updates
Check out the latest from Mic, including our deep dive into how female Overwatch players are dealing with online harassment, a cool making-of video for Legend of Zelda: Breath of the Wild and an article about what a Bechdel test for gaming might look like.