Interest rates will rise, Federal Reserve announces. Here's how that can make you richer.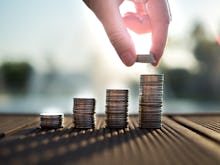 The Federal Reserve is sort of like a pacemaker for the United States economy, providing the small shocks and adjustments needed to keep employment humming along and price inflation under control. On Wednesday, the Fed took one of those actions when it raised interest rates by a long-expected quarter of a percentage point, the second time the central bank has done so recently. 
The previous federal funds target rate range was 0.50% to 0.75%. The new rate is between 0.75% and 1%.
What does this mean? Interest rates describe how much it costs to borrow money, and changing the cost of borrowing is one of the main levers the Fed uses to influence the economy. If you're the party doing the lending — e.g., if you've got a savings account or own some sort of bond, and are therefore lending money to a bank, a company, or the government — then the rate hikes offer an opportunity to boost your bottom line. More money!
For a while, interest rates have been super low in the hopes that near-zero rates would stimulate more lending — and get the economy growing at a faster clip: which means more hiring. When the Fed gets less worried about a recession, and more worried about rising costs and inflation, it'll raise interest rates to keep the economy from heating up too much,
Now that the economy is stronger, the Fed decided it was safe enough to raise interest rates again without slowing growth down. As you can see from the chart above, there's a lot more room for them to go up more before reaching pre-crisis levels. 
What are the Cliffs notes? Generally, rate hikes are bad for borrowers and good for savers. 
So for any rate change, odds are there are going to be some upsides and some downsides for many people. Your credit card bill, for instance, might be a little higher — but your savings account interest rates will be a little bit higher. 
Consumers generally feel the pinch of higher prices before they start seeing rewards, but that's not necessarily sinister, either — after all, banks tend to start charging more before they start passing on savings to their customers, through higher yields.
An environment of changing interest rates is going to be a good time to shop around to different banks or loan providers to see what sorts of deals you can get, since low-rate refinancing will get harder after a Fed rate hike. When interest rates change again, whatever deals you can get now are going to likely be taken off the table quickly.
How to grow your money with rising interest rates
One of the best ways consumers can take advantage of rising interest rates is to get themselves a new, higher-paying savings or even checking account (often referred to, somewhat confusingly, as "high yield").
That's because the spread on interest rates for savings accounts is pretty big. While the average rate is pretty tiny, around 0.16% according to Kiplinger, it can also be as high as 4% on some accounts. To max out on the perks, there are usually going to be rules to follow, like a minimum balance. 
Frequently, online banks like Ally or Synchrony; or local banks and credit unions like the Gurnee, Ill.-based Consumers Credit Union are going to offer higher-paying options than the big brick-and-mortar banks, which have higher overhead expenses. 
On the flip side, if you hold some debt — for instance if you're carrying a credit card balance — the interest payments are likely to go up a little bit. 
You're not going to feel it much; the "typical" balance can expect to see an extra $42 in interest over the course of a year after today's 0.25-point hike — but if you've got a large balance, or a large loan, consider taking this opportunity to quickly refinance your debt now at a fixed rate, so future rate hikes will no longer affect you. Just move fast.
Sign up for The Payoff — your weekly crash course on how to live your best financial life. Additionally, for all your burning money questions, check out Mic's credit, savings, career, investing and health care hubs for more information — that pays off.