The gender wage gap is keeping the US women's hockey team from the world championships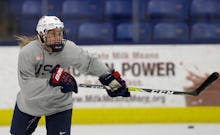 The U.S. women's hockey team has an impressive streak of IIHF World Championship wins, having won gold in six of the last eight world tournaments.
But the reigning team has announced it will sit out of the 2017 games in protest of unequal wages that players said pale in comparison to the men's team's earnings.
According to ESPN, the team's lawyers have long been in talks with USA Hockey about fair compensation, but players have yet to see any "meaningful progress." Until they do, they won't be anywhere near the world championship rink — and with the games set to begin March 31, time is running out.
"We are asking for a living wage and for USA Hockey to fully support its programs for women and girls and stop treating us like an afterthought," captain Meghan Duggan said. "We have represented our country with dignity and deserve to be treated with fairness and respect."
Hockey News reports Duggan makes $22,500 a year, placing her among the highest paid players in the National Women's Hockey League. The league's legal minimum salary is just $10,000.
The U.S. women's hockey team sees the most consistent pay during Olympic season, during which USA Hockey pays players $1,000 a month over the six-month residency, ESPN reported. 
Players said USA Hockey pays almost nothing in non-Olympic years.
"It is a full-time job and to not get paid is a financial burden and stress on players, obviously," player Jocelyne Lamoureux-Davidson said. "Is playing going to be more stress than we can handle? Sadly, it becomes a decision between chasing your dream or giving in to the reality of the financial burden."
But players said the protest is about much more than their individual circumstances. As they watch USA Hockey shell out an alleged $3.5 million annually to fund the national team development program for boys, members of the women's team said their fight for equal wages is about showing young girls who dream of playing hockey that they matter.
"When I see girls at rinks around the country who are dedicated to pursuing big dreams and look to us to lead by example — it's well overdue for us to speak up about unfair treatment, even if it means sacrificing an opportunity to represent our country," assistant captain Monique Lamoureux-Morando said. "We owe the next generation more than that. We owe it to ourselves to stand up for what is right."