When will Netflix's 'The Defenders' premiere? Here's what to know about the Marvel series.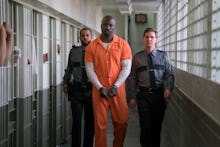 A little more than five years after Earth's mightiest heroes first united in The Avengers, a new crop of protectors will come together on Netflix for The Defenders. Daredevil, Jessica Jones, Luke Cage and Iron Fist will unite to form a new dream team of superheroes. 
The Defenders Netflix release date
While an official release date has not been set for the upcoming Marvel series, Entertainment Weekly  revealed in January that The Defenders is slated for a summer 2017 premiere. 
With Iron Fist now released and production winding down on The Defenders, we could very well start receiving more news regarding the team-up in the coming days and weeks. We're certainly due for a proper trailer at some point. The first teaser trailer for Iron Fist was released five months before its premiere, so a look at The Defenders should be right around the corner. 
The Defenders cast
The Defenders is set to star Daredevil's Charlie Cox, Jessica Jones' Krysten Ritter, Luke Cage's Mike Colter and Iron Fist's Finn Jones. Some characters from the previous four series will also be joining The Defenders, so keep an eye out for Elodie Young as Elektra, Jessica Henwick as Colleen Wing and, of course, Rosario Dawson as Claire Temple, a role she's played in each of Netflix's Marvel series. 
Who is the villain so bad that all these heroes must unite to bring her down? Well, we don't really know much about her yet. What we do know is her name is Alexandra, and she will be played by Sigourney Weaver. Hopefully, we'll get more insight into the character when the series' first proper trailer drops. 
For now, here's the teaser for The Defenders released during July's San Diego Comic-Con:
Mic has ongoing coverage of The Defenders. Please follow our main The Defenders hub here.