No evidence that Trump Tower was wiretapped, top House Intelligence Committee member says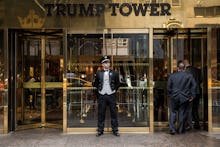 The chairman of the House Intelligence Committee, Rep. Devin Nunes (R-Calif.), said Wednesday that there's no evidence to support President Donald Trump's claim that former President Barack Obama wire tapped Trump Tower.
"We don't have any evidence that that took place and in fact I don't believe — just in the last week of time, the people we've talked to — I don't think there was an actual tap of Trump Tower," Nunes said Wednesday at a news conference on Capitol Hill.
Trump's wire tapping allegations have dogged his administration since he first made the baseless accusation against Obama in a tweet in early March.
"How low has President Obama gone to tap my phones during the very sacred election process," Trump tweeted on March 4. "This is Nixon/Watergate. Bad (or sick) guy!"
The White House has never provided any evidence to back up Trump's claim, with top Trump communications officials seeking to move the goal post about what Trump actually meant when he made the serious charge against his predecessor.
"He doesn't really think that President Obama went up and tapped his phone personally," White House press secretary Sean Spicer said at his Monday press briefing, telling reporters that Trump's wire tapping allegation was in quotation marks, meaning Trump was referring to general surveillance tactics.
"That spans a whole host of surveillance types of options."
White House counselor Kellyanne Conway also suggested over the weekend that any number of surveillance techniques could have been used to surveil Trump Tower, including cameras in microwaves — an allegation she later took back. 
Nunes, for his part, echoed Conway and Spicer's comments, saying Trump's wire tap allegation should not necessarily be taken literally. 
"I think the challenge here is that President Obama wouldn't physically go over and wire tap Trump Tower," Nunes said. "So now you have to decide. ... Are you going to take the tweets literally, and if you are, then clearly the president was wrong."
He concluded: "But if you're not going to take the tweets literally and if there's a concern that the president has about other people, other surveillance activities looking at him or his associates, either appropriately or inappropriately, we want to find that out."