Celebrities give voice to Syrian children by reading their stories in powerful video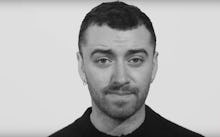 It's been six years since the start of the Syrian civil war, and the pain and suffering continues for millions of Syrians who've been displaced and caught in the crossfire.
On Wednesday, humanitarian organization War Child UK teamed up with celebrities to tell the story of Fatima, a 17-year-old Syrian girl. Jude Law, Nicole Scherzinger, Carey Mulligan, Marcus Mumford, Michael McIntyre, Sam Smith and James Bay collaborated with War Child UK to read Fatima's journey of fleeing Syria. The video explains how Fatima was forced to abandon her siblings to make her way to Jordan to escape bombings and bloodshed in Syria.
"I want to tell the world what's happening in Syria," Scherzinger said on Fatima's behalf. "I want to build my future and finish my education."
The video ends with Fatima facing the camera and giving one final plea to viewers: "Try to end the war soon for us, because we are tired."
Musicians like Coldplay and Florence Welch — of indie rock band Florence and the Machine — also expressed support for War Child UK and the Syrian people by sharing the video with their fans.
You can watch the video in full below: