In defense of Lisa Rinna, whose best role is on 'Real Housewives of Beverly Hills'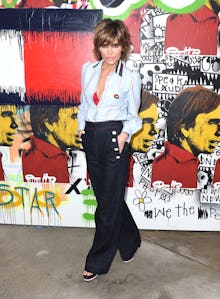 You may love her. You may hate her. You probably love to hate her. But there is no denying Lisa Rinna makes quality television. 
Rinna joined the 90210 women for the fifth season of Real Housewives of Beverly Hills, and since becoming a cast member, she has risen to the top. She has gotten into riffs with a lot of the women, thrown a wine glass and recently ended her feud with Kim Richards.
As a housewife, Rinna is complicated. She is silly, loud and is always stirring the pot. That may turn some viewers off, but it is clear she knows exactly what she is doing. Her ongoing ordeal with Eden Sassoon this season has been the most entertaining storyline during an otherwise less dramatic installment. 
Rinna is maybe the most divisive member on her series. She's got an in-your-face attitude that is a bit deterring. Her career as an actress is reminiscent of The Comeback's Valerie Cherish: She's incredibly earnest, has worked every job that has come her way and this show is truly her comeback. You can't count out Rinna because she'll do almost anything to stay relevant. All of that is part of her charm and why she has excelled in the RHOBH cast. 
Over the years, she's taken on any role presented to her. She's appeared on Dancing With the Stars, an episode of Oprah: Where Are They Now?, the extremely short-lived Sing Your Face Off and everything else in between. Oh, and how could we ever forget her Depends commercial? We could never. 
Rinna succeeds as a housewife because she is always willing to entertain. Like Cherish, she is always on. Drama, scandal, comedy — she does it all. 
In her first season on Real Housewives, Rinna was part of one of the show's most memorable moments. We're of course referencing her dinner spat with Kim while they were in Amsterdam. Her ongoing fight with Kim over her questionable behavior had reached its breaking point, and the two delivered an iconic scene that has become a franchise best.  
Words were exchanged, voices were raised and a single wine glass was thrown. In that moment, Rinna brought everything she learned from her time on Days of Our Lives and Melrose Place — and it paid off. 
Rinna has kept the drama going ever since. She accused Yolanda Foster of lying about her Lyme disease. She brought out phone call receipts during the season six reunion. This season, she even claimed Kim was close to death — and then forgot she said it. 
Lisa Rinna is undeniably watchable. She brings exactly what is asked of her as a cast member: drama, entertainment and great one-liners. While her antics aren't always defensible, she's made the show more entertaining because of them. In becoming a housewife, Rinna has found her greatest role to date — playing herself. 
Mic has ongoing TV coverage. Please follow our main TV hub here.