A woman's headphones exploded in her face during a Beijing-Melbourne flight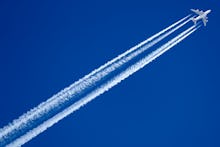 If washing machines, hoverboards and smartphones blowing up weren't frightening enough, now you can add battery-operated headphones to the list. An unnamed woman's headphone batteries exploded on a flight from Beijing to Melbourne, according to a statement from the Australian Transport Safety Bureau on Wednesday. Thankfully, she wasn't seriously injured; the passenger was sleeping at the time and woke up to the mid-flight explosion, which left soot on her face and blisters on her hand.
"As I went to turn around, I felt burning on my face. I just grabbed my face which caused the headphones to go around my neck," she said. "I continued to feel burning so I grabbed them off and threw them on the floor. They were sparking and had small amounts of fire."
The Australian woman used her foot to put out the fire while flight attendants threw a bucket of water on it, Mashable reported. The plane was left with the smell of melted plastic and burnt hair, said the woman, and the melted battery was left stuck to the floor of the aircraft. "People were coughing and choking the entire way home," she said.
The brand of the headphone remains a mystery. The ATSB says the explosion was a "battery issue, not a headphone issue." 
Here's our explainer on why some lithium-ion batteries explode. Basically, it has to do with shoddy manufacturing. "Batteries that are poorly made might catch fire because they overload while charging, or because debris was introduced during the manufacturing process," Mic reported in 2016.
In light of the incident, the ATSB reminds travelers that batteries should be stowed separately and spare batteries should be transported in carry-on baggage and not checked-in baggage. Should a passenger drop a device into a seat gap, they should refrain from moving their seat.