Grindr's "gaymoji" update lets users trade saucy, sexual emojis. Beware: They autosend.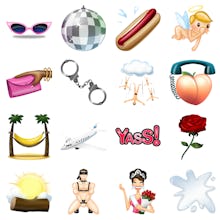 Need to tell a potential hookup you're into bondage and want to trade dirty pictures, but prefer to communicate solely via pictograph? We've all been there. Well, the (infamous?) gay hookup-slash-dating app Grindr now offers a host of emojis — called "gaymoji" — exclusive to the app that you can send to a potential suitor. 
Say what you will about Grindr, but it definitely went all-in with this particular update. There are 500 icons you can integrate to your messages, ranging from a bountiful variety of eggplants in all sorts of scenarios to an image of a stereotypical crazy cat lady.
Here's just a brief sampling of the options you have:
The update has been out only for a short time, but Grindr has already had to pull one of its more controversial symbols — a single, golden "T" — because some users thought it was a reference to crystal meth. 
Grindr told Mic it was intended to be used in concert with the "D" icon to form the open-ended phrase "down to." Despite the removal of the potentially nefarious "T," there's still a gaymoji that depicts poppers, a recreational drug that's used to enhance sexual pleasure.
Regardless of your stance on the inclusion of those saucier icons, beware: If you choose to use any of them — even the wholesome ones — they'll autosend to your recipient as soon as you tap them. I found that out the hard way when I accidentally invited someone to have a kiki.
Stay safe out there, folks.