Arizona man breaks into mosque to rip up 130 copies of Quran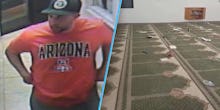 On Tuesday, the Islamic Center of Tucson shared on its Facebook page that an unknown man broke into and vandalized the center, ripping up over 130 the mosque's copies of the Quran, the Islamic holy book. 
The Tuscon, Arizona, mosque shared pictures of pages ripped out of the Quran and strewn all over the center's prayer room rug. 
Local KOLD reporter Maria Hechanova shared close-up pictures of the shredded Qurans on her Twitter. 
The center shared an image captured of the man responsible on Facebook. In the image, which was captured by a security camera, the man depicted is wearing a University of Arizona T-shirt. 
"Although we are disheartened by this incident, we understand that this is an isolated incident," the Center wrote on Facebook. "The ICT has been a part of the Tucson community since the late 1980's and since then, the Tucson community has been kind, welcoming, and supportive." 
Kim Bay, a spokeswoman for the Tucson Police Department, told Tucson News Now there is "no indication this was a hate crime." 
Tucson Islamic Center spokesman Mahmoud Abagi told Hechanova that this was the first time an act like this had happened to the mosque. 
Though it might be a first for the Tucson mosque, it's the latest in a series of aggressive attacks at mosques both nationally and internationally. In January, a 27-year-old Trump supporter opened fire in a Quebec City mosque, killing six people and wounding 19 others. Also in January, a mosque in Victoria, Texas, was set on fire, and authorities are now investigating the incident as arson. Only five days prior, a California mosque was vandalized with strips of bacon. 
2015 was also named the worst year for mosque attacks on record. 
The Islamic Center of Tucson created a GoFundMe page in hopes of securing funding to beef up the mosque's security. According to the fundraising page, the mosque wants to upgrade its alarm system, camera surveillance and night lighting, repair damaged doors and hire security guards. All together, the mosque is hoping to raise $12,500.