These anonymous activists are starting a campaign to mass-unfollow Donald Trump on Twitter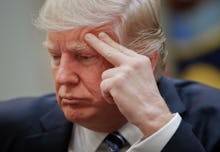 President Donald Trump appears to feel pretty comfortable on Twitter, where he speaks unfiltered to a platform of millions. But this group of anonymous activists has plans to fight Trump by hitting him where it hurts — his follower count.
Block the Bully, which launched Thursday, allows users to plug in their Twitter account and it, with one click, automatically unfollow President Trump's @RealDonaldTrump handle for them and block his account. And if users don't already follow Trump, it will follow and then unfollow him so he still gets the notification. 
"Trump is using Twitter as his bully pulpit, and I think everybody knows that," one of the project's leaders said in a phone call on Wednesday, speaking on condition of anonymity. "We realized that this is Trump's own, direct-to-consumer channel that he feels empowered by, that he controls." 
So the goal, the organizer said, was to launch an "agitation campaign" against Trump by targeting his Twitter following. 
"We know what a thin skin he has, that he reacts to everything," the organizer said. "If we could get a vast number of people to unfollow, and even block him, in the channel that he values the most ... I think it sends a very strong statement." 
The organizer said the Block the Bully campaign's official Twitter account will share regular updates to Trump's follower count, which they hope will begin to trend downward.
The team behind the campaign is a small group of activists who work in tech and entertainment. They're identifying themselves on the project only as "The Resistance."
The weeks and months since Trump's presidential victory in November have seen massive protests across the country, from the Women's March on Washington and its sister marches around the world to town hall meetings packed with constituents who are concerned about Trump's policies. 
But can a digital campaign carry as much weight as boots-on-the-ground activism? The organizer behind the "Block the Bully" campaign seems to think so.
"We know what a thin skin he has, that he reacts to everything."
Digital activism is "incredibly important," the project's organizer said, adding that the team is hopeful that this project will inspire other activists to use the digital space to create new methods for political change. Future projects could include robo-calling elected officials, the organizer said, or creating new systems to keep fake news from spreading online.
"This is our small little effort to inspire folks, and if we can piss Donald Trump off while doing it, that's a win-win," the project's organizer said. "Even if it doesn't change the world, every act, every little energy that you put out there, in aggregate, will."