Justice Department charges Russian spies for hacking Yahoo accounts in 2014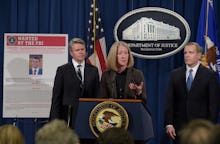 The United States Justice Department announced on Wednesday the indictment of two Russian spies and two hackers in connection with the 2014 hijacking of 500 million Yahoo user accounts.
The charges — which include "computer hacking, economic espionage and other criminal offenses in connection with a conspiracy" — are the first criminal cyber charges filed by the U.S. against the Russian Government.
During a press briefing on Wednesday, officials called the 2014 attack "one of the largest data breaches in U.S. history." 
"We will not allow individuals, groups, nation-states or a combination of them to compromise the privacy of our citizens, the economic interests of our companies or the security of our country," acting Assistant Attorney General Mary McCord said of the unprecedented charges.
The widespread hack was broadly targeted at the email accounts of Russian and U.S. officials, journalists and business officials, according to the Associated Press.
In 2014, Yahoo did not immediately disclose the data breach, but began contacting the 500 million users that had been affected to let them know that their personal information, including birthdays and answers to security questions, had been compromised. The company later addressed the hacks publicly, and also divulged details about an earlier hack in 2013 that had impacted approximately 1 billion accounts.
The announced indictments are unrelated to separate charges of Russian interference with the Democratic National Committee and 2016 presidential election, which are still under investigation.