Drake's 'More Life': 10 artists who might be featured on the new October Firm playlist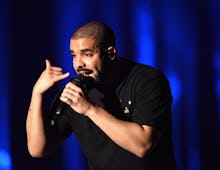 After weeks of speculation, Drake's newest project More Life is confirmed for Saturday March 18. So far he has dropped and confirmed three songs from More Life, including "No Sneakin" featuring 21 Savage, "Fake Love" and "Two Birds, One Stone." As of Wednesday, the rapper has been quiet about a confirmed tracklist and additional guests for the playlist. 
Drake has given a few clues here and there about who will show up on More Life, and in the album cover above he credits it to October Firm, which is speculated to be a collaboration between Drake and OVO co-founder Oliver El-Khatib. 
During Drake's initial announcement of More Life in October, Drizzy said the project would be: "All original music from me. You might hear some tunes from the family on there." 
Obviously, Drake is likely referring to artists on his label OVO Sound. There are also several unreleased collaborations between Drake and other rappers and singers in the game that we suspect may pop up on the playlist on Saturday. 
Here are our predictions on which artists will make Drake's More Life playlist.
PartyNextDoor
The man behind "Work" and frequent Drake collaborator is a strong part of the OVO Sound label and it would be no surprise at all to see that PartyNextDoor makes the tracklist. 
Majid Jordan
Electro-soul duo Majid Jordan are also team OVO Sound. If Drake wants to bring more visibility to his artists then Majid Jordan may have a spot on his new project. 
Migos
Who doesn't want to work with Migos right now? The Atlanta rap trio just picked up a feature with Frank Ocean on Calvin Harris' new song "Slide" and they're also on Big Sean's I Decided track called "Sacrifices." The trio revealed to DJ Whoo Kid that they have some tracks in the works with Drake and since the timing couldn't be better, maybe Drizzy will feature them on his latest project.
Bryson Tiller
In December, Grammy-nominated trap soul sensation Bryson Tiller alluded to working with Drake and mentioned the More Life playlist in a tweet. This gives us reason to believe the singer and rapper have a collaboration on the forthcoming release.
Kanye West 
Rumors about a Yeezy and Drake mixtape have been floating around for sometime now but there's never been an official release date confirmed. If the music actually exists, it's possible it'll be on More Life. West revealed to Vogue in September the release would be coming soon, but gave no date for it.  
"We're just working on music, working on a bunch of music together, just having fun going into the studio," West said. "We're working on an album, so there's some exciting things coming up soon." 
Nicki Minaj
In February, Nicki Minaj and Drake reunited. Last week, Drake lent bars to Minaj's "No Frauds" along with Lil' Wayne. That song is proof they've been in the studio recording. So perhaps there's another record Drake has under-wraps with Minaj on it. 
J. Lo
J. Lo and Drake made headlines last year when many believed they were dating. We do know for sure that the two made new music together and it is highly likely a song will make the cut. "He just asked me to do a song with him and that's what we've been doing," she told ET. "We'll see if it's on his next album," she added. 
Rihanna
Maybe they've officially moved on from each other or maybe not. But Rihanna and Drake do have great musical chemistry with their multiple hits "Take Care," "Work" and "Too Good." We can only hope there are other tracks laying around from the two that Drake will gift to fans.
Gucci Mane
Another rapper Drake was rumored to be releasing a mixtape with is Gucci Mane. Drizzy previously handled the hook on Mane's "Back on Road," but project rumors are a clear sign that there are other collabs in Drizzy's vault that he's holding onto. The rappers can wait to put out the new songs on their mixtape or perhaps there might be one song that fits into the More Life playlist. We hope the latter.
Future
Rapper Future is also having a hot 2017 so far, having released two back-to-back No. 1 albums, the first artist to do so in history. As we know, Future and Drake released a surprise mixtape What a Time to Be Alive in 2015 and it could also make sense that Drake has some unreleased tracks that will make More Life.
Mic has ongoing Drake coverage. Please follow our Drake hub here.