Snoop Dogg likely won't see jail time for Trump "Lavender" video, but there are some risks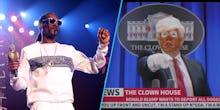 In his "Lavender" music video released Sunday, Snoop Dogg aimed a fake gun at a parody version of President Donald Trump and pulled the trigger. The gun didn't fire a bullet, only a comical "Bang!" flag and a burst of confetti, but it was enough to draw ire from leading conservative voices including Marco Rubio and Ted Cruz. Trump's lawyer demanded an apology, and on Wednesday, Trump entered the fray and shot back.
"Can you imagine what the outcry would be if Snoop Dogg, failing career and all, had aimed and fired the gun at President Obama?" Trump asked on his personal Twitter. "Jail time!"
As with many of Trump's tweets, it's difficult to know whether we should consider this one of his inscrutable, humorless jokes or if he really believes Snoop Dogg could face jail time for his satire. A straightforward answer to that question isn't as simple as one might think.
In short, the answer is no. Snoop is protected by free speech laws, and a handful of similar cases show the courts often rule in favor of free speech. However, the long answer is maybe. If he hasn't already, Snoop Dogg could get a visit from the Secret Service very soon.
In the eyes of Andrew Sellars, director of the Technology & Cyberlaw Clinic at Boston University School of Law, the video alone alone doesn't provide nearly enough evidence to lead to a conviction or jail time.
"Not even close," Sellars told Mic in a phone interview. "In order for a threat to the president to be punishable, it has to be what is called a 'true threat.' That's to balance the threat statute with the First Amendment."
The court hasn't been crystal clear about what a true threat means, Sellars said. But the first time the courts invoked this language, it was to protect a person who appeared to threaten the life of former President Lyndon B. Johnson. The case was Watts v. United States and dealt with the arrest of a Vietnam War protester, who said during a protest at the Washington Monument that if he were to be drafted and had a rifle thrust into his hands, "the first man I want to get in my sights is LBJ."
The Supreme Court ruled in favor of Watts and said his words "did not constitute a knowing and willful threat against the president," according to court documents.
New York music attorney Cassandra Spangler expanded upon Sellars' view in an email, explaining the only exceptions to free speech to date have been "obscenity, child pornography, defamation, incitement to violence and true threats of violence." 
"The first two clearly don't apply," Spangler wrote, "nor does the video make any sort of 'call to action,' nor is it reasonably likely to result in any violent action." She noted "the Supreme Court has unanimously held that satire and parody, specifically political cartoons, are protected by the First Amendment."
There are some gray areas to this case, however. 
"Just because you can't hold a person responsible doesn't mean they won't get investigated," Sellars said. "Certainly, the Secret Service has investigated people, and we don't know exactly how they define it. Both President Trump and Obama have seen far more threats online than the Secret Service has time to chase down."
Musicians Ted Nugent and Creed's Scott Stapp threatened the life of former President Barack Obama in 2012 and 2014, respectively, and both incidents resulted in Secret Service investigations. Earlier in February, rapper Renizance claimed the Secret Service visited him after he cut his song "Trump Dies," outlining in methodical detail how he would go about murdering the president. YG also claimed he got a visit from Trump after releasing his protest anthem "FDT (Fuck Donald Trump)." 
None of those musicians received jail time. However, as recently as 2014, court cases such as Elonis v. U.S. and State v. Skinner have seen prosecutors scrutinize rap lyrics as a means to indicate a defendant's penchant for violence. In the case of Vonte Skinner, prosecutors read 13 pages of violent lyrics to convince the jury he was guilty of a murder to which none of the lyrics actually referred. In the Elonis trial, the prosecution tried to claim Facebook posts filled with violent rap lyrics were literal threats against Anthony Elonis' then ex-wife.
"No other fictional form — musical, literary or cinematic — is used this way in the courts," Michael Render (aka Killer Mike) and University of Richmond assistant professor Erik Nielson wrote in a 2014 USA Today article. "[It's] a concerning double standard that research suggests is rooted, at least in part, in stereotypes about the people of color primarily associated with rap music, as well as the misconception that hip-hop and the artists behind it are dangerous."
Sellars agreed this double standard would likely work against Snoop should his music video result in court action, especially considering the target of his satire. 
"It's worth looking into," Sellars said. "I wouldn't be surprised if you were to learn that rap lyrics get treated differently than other forms of expression in restrictive environments where you can potentially punish people more."
Mic has ongoing music coverage. Follow our main music hub here.