Trump campaign official emails meme declaring March "Stop Blaming White People Month"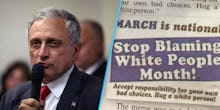 For just one month, Carl Paladino wants you to stop blaming white people. 
Paladino, a New York businessman and former co-chair of Trump's New York campaign, recently circulated an email with a meme declaring March to be "National Stop Blaming White People Month."
The New York Daily News published a photo of the meme on Wednesday:
The meme included the following text: "Accept responsibility for your own bad choices. Hug a white person." 
In an email to the Daily News, Paladino defended the meme. 
"It's pure unadulterated humor," he said. "Get a life." Paladino did not immediately respond to Mic's request for comment. 
Paladino's meme is not the first time his race-based remarks have gotten him in hot water. In December, the Buffalo School Board in Buffalo, New York, called for his removal after Paladino gave controversial responses to a survey from a local weekly paper. When responding to a question about his wishes for 2017, Paladino said he wished former President Barack Obama would die of mad cow disease and that Michelle Obama would "return to being a male and let loose in the outback of Zimbabwe where she lives comfortably in a cave with Maxie, the gorilla."