Canada Goose stock price, how to buy shares of GOOS and whether investing in the IPO is smart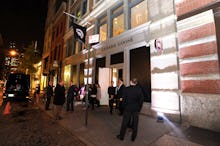 Canada's hottest stock of the year is an outerwear company for frigid weather known for its high-end winter coats. For the price of just one $1,000 Canada Goose down jacket, you can now pick up more than 50 shares of common stock. Shares were priced at roughly $13 ($17 Canadian) Wednesday, though the stock opened Thursday on the New York Stock Exchange and the Toronto Stock Exchange at $18 a pop.
Investors who waited a beat may have had the right instinct. By 4pm Thursday Canada Goose shares closed just above $16. Then again, it's smart not to read too much into a stock's first day of trading: Snapchat-maker Snap's shares opened at $24 when the stock IPOed on March 2 — and then closed at a higher value that day. Yet two weeks later SNAP is trading below $20.
Canada Goose stock, which trades using ticker symbol GOOS, is available for sale via a brokerage account. If you are interested in owning GOOS, many brokerages like TD Ameritrade or Robinhood will let you place a "limit order," which allows you to indicate a maximum you will pay per share and your broker will buy them only if they can get you that deal.
There's a lot of reasons to be cautious. Betting on initial price offerings, or IPOs, is one of the riskier forms of stock-picking, an already risky practice. Once you account for fees and the many advantages held by insiders and professionals, most everyday investors are going to be better off with plain old index funds that lump lots of stocks together to mitigate risk. 
But for a lot of reasons, IPOs are still noteworthy events, whether you're trying to get a piece of the action or not. Sometimes, when IPOs are successful, it often inspires more companies to try going public themselves.
More companies going public is one possible sign that more companies are trying to grow, and therefore hire. That means jobs. That's part of why President Barack Obama's JOBS Act tried to make it easier for companies to complete the process by letting them keep more of their information confidential until they were ready to pull the trigger. 
The Canada Goose IPO is also being seen as a referendum on the luxury goods market, which has struggled in recent years. Companies making luxury products must do a delicate dance as they expand: Become too available too fast, and you lose the scarcity that made you covetable in the first place. 
Should I buy Canada Goose stock?
When it comes to whether a stock is a good investment, you should always take everything you hear with a grain of salt. No one knows what's going to happen in the future, and there is always going to be a mix of people arguing convincingly that the company is going to up or that it is going to go down. 
If you think a company stock is going to go up, you're what's known as a "bull." If you think it's going to go down, you're what's known as a "bear." Bulls and bears are always making their respective cases. 
The bull case for Canada Goose is that, unlike SNAP, the company actually turns a profit — aka makes money. It's also got a lot of room to grow, though the brand is wildly popular in Canada, its recognition is only about 16% in the U.S., and heavily concentrated in the Northeast, per the company's prospectus.
That's got bullish investors smelling lots of growth. 
As for the bear case? There's always lots that can go wrong when a trendy company tries to capitalize on its proverbial "moment."
It's hard to keep something trendy forever, and when the market turns, it turns: As Business of Fashion notes, after several profitable years the company Michael Kors lost 8% of its value in a single day after it reported disappointing earnings. Michael Kors still made money, but it just didn't make as much cash as market analysts thought it would. That's one reason luxury apparel companies often stay private. 
Canada Goose also carries hundreds of millions of dollars in debt, which it says it plans it will partly pay down using the funds raised in the IPO. That's a fairly large bit of leverage: worth nearly 60% of its assets or total worth.
The company notes in its prospectus that animal rights activists could be a risk for the brand as its name recognition grows. Thursday morning outside the New York Stock Exchange protesters called attention to the company's coyote-fur trimmed hoods.
PETA  reportedly also takes issues with the company's use of goose down in its jackets, though the apparel maker told CBC that its feathers are all byproducts of the poultry industry. Representatives for the company declined to comment on questions from Mic about these and other risks, citing the company's "quiet period," a common practice amongst companies as they prepare to IPO.
As always, anyone buying stock should be willing to lose some or even all of their investment. Often an IPO can be a riskier bet than buying stock in a more established company; most financial planners suggest first-time investors instead buy low-cost and diversified index funds.
March. 16, 2016, 4:43 p.m. Eastern: This story has been updated.
Sign up for The Payoff — your weekly crash course on how to live your best financial life. Additionally, for all your burning money questions, check out Mic's credit, savings, career, investing and health care hubs for more information — that pays off.