'Zelda: Breath of the Wild' Molduga Boss Guide: Location, tips, tricks and how to beat it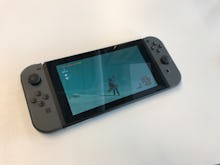 The open-world structure of The Legend of Zelda: Breath of the Wild means that sometimes you'll run into a boss outside a specific level. Such is the case for random Stone Talus and Lynel encounters, as well as Molduga. You may come across this desert monster in your adventure on the way to Gerudo Town. 
Explore around the woman-only locale and you'll likely run into Molduga. Here's how to beat it in a fight, based on our own experience.
Zelda: Breath of the Wild Molduga locations: Where to find the boss
There are four places you can find Molduga in BotW. BeardBear on YouTube provides a handy map for all four of the locations. You can find Molduga in the following locations.
• Near the Toruma Dunes 
• The Southern Oasis 
• Directly in the middle of Toruma Dunes and Dragon's Exile
• Just north of Arbiter's Grounds
Walk around these four areas until you find a giant moving lump of sand. Once in the general area, you should have no trouble finding Molduga, as it will likely be drawn to you and try to attack you.
Zelda: Breath of the Wild Molduga boss guide: How to beat it
Defeating Molduga isn't difficult and you can even do it relatively early on in the game. When facing off against old Moldy, you'll want to go high — most areas where you fight it allow you to take the high ground and stand on a rock while Molduga patrols the area. Being on the same level as the boss down in the sand is dangerous.
From your rock-like pedestal, throw a bomb (without detonating it) near the monster. It will think it's food and try to eat your glowing blue orb. While it's in the air, tap the L button to set off the bomb while it's in its mouth. It will fall on its back, and this is when you can rough it up. As Molduga starts to get its bearings, you'll want to assume your position on the rock for protection as it starts doing laps yet again. Wash, rinse and repeat until Molduga is defeated.
Check out more Zelda: Breath of the Wild news and coverage
Find out all there is to know about Zelda: Breath of the Wild, including what it took to make the game. Find out how to preserve your items and beat bosses like the Stone Talus and Lynel, the best recipes for Link and how to take on the game's shrines. You'll also want to find out where all the great fairies are in the game and how to use amiibo with your version of Zelda.