What do 'The Apprentice' winners think of President Trump?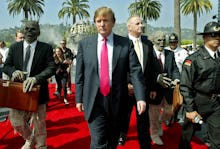 Before President Donald Trump hosted The Celebrity Apprentice, in which C- and D-list celebrities compete for the title of Celebrity Apprentice, Trump's successful realty show was just The Apprentice, in which regular folks competed for a one year, $250,000 position working for the Trump Organization.  
There were seven winners of The Apprentice. While they all have a uniquely shared experience, they certainly don't share the same views of Trump.
Bill Rancic — winner, season one
In January 2016 Rancic told CBS, "I think [Trump would] be a great president, certainly." Eleven months later, he voiced a similar sentiment to CNBC: "He lifted me up. He gave me an opportunity that was absolutely spectacular and I think he's going to do the same for all of America." Multiple outlets tried to find out if Rancic ultimately voted for Trump, but he would not comment. 
Support: Moderate
Kelly Perdew — winner, season two
Perdew donated to Republican candidates in the 2016 election cycle, including current CIA chief Mike Pompeo in his bid for re-election to Congress. There were no donations to Trump, and he has not tweeted about the 2016 presidential election. If he has commented about Trump's candidacy or presidency, then his comments have flown far under the radar.
Support: Unknown
Kendra Todd — winner, season three
Not long after Trump announced his candidacy Todd expressed support for his candidacy, telling the Washington Post: "Terrorist nations would probably be a lot more concerned when he says that he draws a red line in the sand, because they'll know that he means it. He may have an opportunity to be taken more seriously than our current president in a lot of areas."
Later, after the infamous Access Hollywood recording came out, in which Trump boasted about sexually assaulting women, Todd spoke to CBS12 Palm Beach to defend him, "Every woman that I interacted with within the Trump organization held Mr. Trump in very high esteem and very high respect." She also told the Telegraph, "I have nothing but positive things to say about my interactions with him, and I'm not exactly an ugly girl. So I think it would be unfair to characterize Mr. Trump as someone who hits on every attractive woman that crosses his path." 
Support: Strong. Todd said she would vote for Trump, according to CBS12 Palm Beach.
Randal Pinkett — winner, season four
Pinkett has been outspoken in his opposition to Trump.  As reported by the New York Daily News, he said, "Donald is not worthy of the highest office of the land... Donald's proposed policies make clear not only that he's unqualified to be president but also that he's a danger to the country and the world." He later told Diverse Issues in Higher Education, "We see what's happening today in our schools with rising incidents of bullying, of racism, of intolerance. Those behaviors are partly of Donald's hands and it's going to get worse before it gets better unless he changes his understanding of his role as leader of the entire country."
Support: None.
Sean Yazbeck — winner, season five 
Yazbeck's political views are not readily apparent. His one political donation in Federal Election Commission records is to a Republican, but it was 11 years ago and there was a personal connection. In 2006 he made a $500 donation to fellow former Apprentice contestant Raj Bhakta's losing bid for congress as the Republican nominee. He has not commented on the 2016 election. 
Support: Unknown
Stefanie Schaeffer — winner, season six
Schaeffer voiced some qualified support for Trump after his campaign launch speech. Of his shocking comments about Mexicans, she told the Washington Post, "I think you can be honest about how you feel... but it doesn't give you license to hurt other people's feelings, and certainly not a group of 30 million hard-working Americans." Otherwise, she has kept her views about Trump's candidacy and presidency to herself. 
Support: Mixed/Unknown
Brandy Kuentzel — winner, season 10
The Apprentice switched to its celebrity format for seasons seven through nine and Mic has checked in on the winners of those seasons. 
Kuentzel donated $500 to California Democratic Senator Kamala Harris' successful bid for the California senate seat vacated by Barbara Boxer. Her specific views on Trump's candidacy and presidency are not known.
Support: Possibly opposed. 
Like the rest of the U.S., the winners of The Apprentice are divided in their views of Trump. 
Unlike the rest of the country, they are in the relatively unique position of being tied to Trump forever, regardless of their political views. 
Political donation information is sourced from publicly available data provided by the Federal Election Commission via transaction queries.