Mandy Moore defends 'This Is Us' after season finale disappoints fans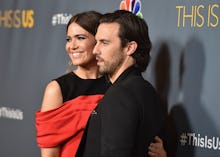 Let the man live! 
This Is Us viewers are obsessed with finding out how Milo Ventimiglia's character, Jack, died. Unfortunately, season one of the NBC drama concluded without revealing his cause of death — and star Mandy Moore has a message for fans who are frustrated with how things ended.
"I stand in awe of this friend of mine," Moore captioned a photo of her and Ventimiglia on her Instagram. "He is the ultimate partner in crime and he absolutely knocked it out of the park on every level in last night's finale. I am the luckiest. Can't believe we have 18 behind us and at least 36 ahead, Mi. Wow."
But Moore wasn't done. She used her social media platform to tell fans to have "patience."
"For those somehow frustrated with the finale not revealing how Jack passed, I would encourage patience," she wrote, adding 
Otherwise you might be watching the wrong show. Last night was fundamental to the bigger picture. The story deviated and ultimately landed on (I think) a more compelling question ... what was the state of this relationship in the end? And as Milo so eloquently stated, let's focus on how the man lived! Stay tuned, cause it's all leading somewhere and we're just getting started.
Moore was referring to an interview Ventimiglia did with Entertainment Weekly after the finale. The actor told the outlet viewers shouldn't be so concerned about the death, but instead focus on how Jack lived his life.
"How did this man live his life?" Ventimiglia said. "How did he embrace his family, even in disrepair? How did he fight for his family when it looked like things were broken and going away? 'How did this man live his life?' is more important than when he died, in my mind."
For those who missed the finale, season one ended with Jack and Rebecca agreeing to take a break after Jack showed up drunk at her show in Cleveland. The two had a horrible fight and seemed to have lost their way from each other, though Jack was hopeful they would fix their relationship.
"Our love story, I know it may not feel like it right now, but baby, I promise you, it's just getting started," he told Rebecca before leaving to stay at Miguel's.
Mic has ongoing This Is Us coverage. Check out our main This Is Us hub here.