The Netherlands just elected Mark Rutte over populist Geert Wilders, exit polls show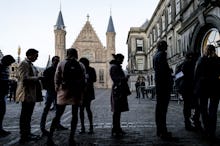 Early exit polls indicated Prime Minister Mark Rutte had won the Dutch election on Wednesday, defeating main opponent and anti-Islam candidate Geert Wilders by a wider-than-expected margin, according to the Associated Press.
Polls suggested Rutte's center-right People's Party for Freedom and Democracy won 31 out of 150 seats, the BBC reported.
Amid years of increasing refugee populations in the Netherlands, immigration played a central role and ultimately became a flashpoint in Wednesday's contentious parliamentary election. Wilders, who openly scorned Muslims throughout his candidacy and once referred to Moroccans as "scum," was even referred to as the "Dutch Donald Trump."
As the March 15 election drew nearer, Wilders held on strong in the polls, causing concern among voters who feared the Netherlands would become the next domino to fall in a recent tide of European nationalism.
In April, French voters will head to the polls amid similar rumblings about the National Front's far-right Marine Le Pen, who has also enjoyed unusually high polling numbers as a populist candidate.