Azealia Banks agreed to anger management to avoid jail time for 2015 assault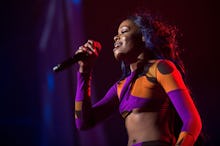 Controversial rapper Azealia Banks took a plea deal on Wednesday in a 2015 case in which she bit a bouncer's breast a downtown New York club. Banks will take anger management classes to avoid jail time. 
As jury selection was about to start for her case, Banks took the offer of anger management from prosecutors for her third-degree assault charge. If Banks stays in the program without incident, provides updates to the judge and remains trouble-free for a year, the charge will drop down to disorderly conduct. 
If Banks fails to meet these terms, she faces a year in jail. Banks is due to return to court in June to update the judge on her progress in the anger management program. 
Banks missed her original court date while in France for Paris Fashion Week, according to Pitchfork. A judge issued a warrant for her arrest and then retracted the warrant when she appeared in court the next day.
Azealia Banks has spoken at length on social media about her own mental health, though people have been slow to accept her pleas for understanding after she used racist and homophobic slurs to address others on social media. 
Banks released her debut album, Broke With Expensive Taste, in 2014.