The ruling that blocked Trump's Muslim ban made him so angry he was hours late to a rally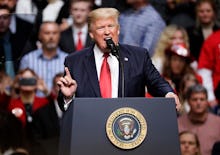 President Donald Trump was hours late to a rally in Nashville, Tennessee, on Wednesday evening in part because staffers made a frantic attempt to improve his mood following a federal judge's ruling against the revised version of his travel ban on citizens of six Muslim-majority countries, Politico reported.
Trump, who was roughly two hours behind schedule to speak at the rally, delivered remarks written "last minute" after U.S. District Judge Derrick Watson trashed the administration's defense of the executive order, White House sources told Politico. Trump's delay in addressing attendees was partially due to his poor mood upon hearing the news, which they attempted to address by showing him favorable cable news coverage.
According to Politico, "White House officials traveling with him tried to cheer the president up by showing him remarks that Harvard University Law professor Alan Dershowitz made on Greta Van Susteren's MSNBC show, arguing that the Supreme Court would never uphold the court's ruling."
One of the weirder roles carried out by Trump's political staff has been keeping him from flying off the handle at a bad turn in the news, per a long record of reporting on the real estate mogul's campaign and young presidency.
As recently as this month, staff reportedly struggled to calm the president down after he learned Attorney General Jeff Sessions recused himself from Justice Department investigations into contacts between Trump's team and Russia. The next day, an angry Trump accused former President Barack Obama of having his "wires tapped" in Trump Tower before getting even angrier when his own staff and fellow Republicans failed to back him up.
"He was pissed," Christopher Ruddy, head of far-right news site NewsMax, told the Washington Post. "I haven't seen him this angry."
In February, Politico reported former Trump campaign employees were urging White House staffers to regulate the president's access to critical media and instead present him with fawning coverage from right-wing outlets, which they believed help offset potential tirades on Twitter.