Trump's new budget would gut the EPA but sets aside billions for his wall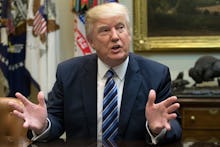 President Donald Trump will release his new budget on Thursday and, according to a report from the Associated Press released early Thursday morning, Trump's plan would get rid of a dozen departments and sets aside more than $1 billion in immediate funding for his U.S.-Mexico border wall.
Several news organizations, including the AP and the New York Times, which posted the document online, obtained a copy of Trump's proposed budget ahead of its official release on Thursday morning. 
The $1.15 trillion budget, titled "America First: A Budget Blueprint to Make America Great Again," would eliminate, among other programs, the National Endowment for the Arts, a program providing legal aid for people who cannot afford it, a program to clean and protect the Great Lakes and AmeriCorps, the "national service program" originally created by former President Bill Clinton.
Trump's proposal also cuts funding for programs that the AP reports are "congressional favorites," like a program providing assistance to homeless military veterans. 
According to the New York Times, the Environmental Protection Agency, which is tasked with, among other things, researching and tracking the effects of climate change, is "among the hardest-hit agencies" in Trump's proposed budget. The EPA would be forced to lose about 3,200 employees, which is more than 20% of the entire department, according to the Times.
The budget also proposes dramatically reducing spending on foreign aid and goes after the United Nations specifically, according to the Times, completely cutting all U.S. funding for U.N. climate change programs and reducing the U.S.' regular funding for the U.N.
So what is getting funded in Trump's proposed budget? The plan proposes $54 billion in total military spending, the AP reports, to go towards funding "troop readiness," fighting ISIS and weapons spending. 
And the Times reports that, in addition to funding for the wall, the budget proposes more than $1 billion on "detention and deportation," as well as funding for the hiring and training of 500 new border patrol agents and 1,000 new hires for Immigration and Customs Enforcement.
Trump's budget proposal now heads to Capitol Hill, where, as the AP reports, it's likely to encounter resistance from both sides of the aisle.