Tom Price had a health care town hall — and these people came prepared to fight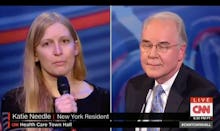 U.S. Department of Health and Human Services Secretary Tom Price appeared on a CNN town hall Wednesday night to defend the Republicans' Affordable Care Act alternative — a plan that could lead to an estimated 24 million Americans without insurance.
People came to the town hall prepared to take Price to task on the American Health Care Act, and it let to some very powerful moments.
Here are some of the town hall attendees' most scathing takedowns of the Republicans' controversial health care plan.
This cancer survivor told Price that Medicaid saved his life.
Brian Kline told Price that Medicaid saved his life and saved him from bankruptcy. Kline, who said he earns $11.66 an hour at his retail job, told Price he wouldn't have been able to afford the care he needed to treat his cancer without Medicaid expansion. His question for Price was simple: "Why do you want to take away my Medicaid expansion?"
The proposed GOP health care plan would end the Affordable Care Act's Medicaid expansion, which has enjoyed support in states with both Democratic and Republican governors.
Price's response was to thank Kline for his question and tell him the Medicaid program "has real problems in it" and needs reform. 
This woman stood up for Planned Parenthood.
When New York resident Katie Needle got her time at the mic, she laid into Price with some hard-hitting facts about the care Planned Parenthood provides to patients around the country.
"I'm a Medicaid enrollee and I'm a Planned Parenthood patient and I would be absolutely devastated if Planned Parenthood were defunded," Needle said. 
She pointed out that Price had said one of the problems with Medicaid is that some providers don't accept it — but Planned Parenthood does, Needle said, and it sees more than 1 million patients each year through federal programs like Medicaid.
The Republican health care bill would defund Planned Parenthood, potentially denying millions of people access to the care they provide, which includes cancer screenings, contraception and prenatal care.
Other attendees responded to Needle's question with applause. Price responded to Needle by saying Republican legislation would "increase money for women's health services."
This retired public school teacher asked Price why he was raising premiums for older Americans.
Teresa Caliari, a retired public school teacher, asked Price a question about the premium increases older Americans would face under the GOP health care plan. The increases could make health insurance flat out unaffordable more many older Americans, the New York Times reported.
"The AHCA hikes the cost of health insurance for millions of Americans, with the biggest increase for older adults, like myself," Caliari told Price, later asking, "How can you justify that change?"
Price seemed to evade the question, stressing consumer choice as a priority and highlighting a system of increasing credits for people as they aged. When Price was later asked if he could say for certain that Caliari wouldn't suffer financially, he said, "I don't believe you'll be worse off from a health care standpoint."
The Republican health care plan is already facing fierce criticism from both Democrats and Republicans in Washington, the American Medical Association has also said it opposes the plan — and, from the looks of Price's town hall, everyday Americans have some strong feelings as well.