Snoop Dogg uses a British accent to respond to interview requests about Donald Trump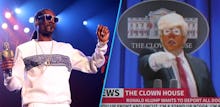 Snoop Dogg is not fazed by the controversy surrounding the new music video for "Lavender," in which Snoop points a fake gun at a man playing a clown-faced President Donald Trump. Last night Snoop said he isn't responding to any interview requests via a video posted to his Instagram account. In the clip, the rapper used a British accent to emphasize his feelings.
"You all want to ask me questions and interview me. But guess what, I've got nothing to say, mate," he says in the post below.
Trump tweeted his response to the music video on Wednesday and was clearly not amused by the visual's representation of him. Trump threatened Snoop with jail time, but that's likely an empty threat since freedom of speech protects the rapper. 
Upon release of the "Lavender" music video, Snoop told Billboard that this song was his way of protesting the current presidential administration. 
I feel like it's a lot of people making cool records, having fun, partying, but nobody's dealing with the real issue with this fucking clown as president, and the shit that we dealing with out here, so I wanted to take time out to push pause on a party record and make one of these records for the time being.
"Lavender" was originally released as an instrumental collaboration between Snoop, musical group BadBadNotGood and producer Kaytranada — until Snoop added his own lyrics. 
Fellow rapper Common told TMZ that Snoop Dogg using his music as a platform to speak about his issues with the president is nothing new. He compared him to popular 1980s hip-hop acts Public Enemy and KRS One, who also rapped about politics in their music. 
"If you go think about the days of Public Enemy, and you fast forward to Kendrick Lamar, like, hip-hop artists have always been speaking up and saying what they feel," Common explained. 
Mic has ongoing Snoop Dogg coverage. Please follow our Snoop Dogg hub here.