Restauranteur promises $1M in steak to 15K undergrads if Norse beat Wildcats in NCAA game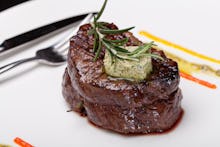 Northern Kentucky University faces long odds in Friday's NCAA first-round match up against the University of Kentucky. It's NKU's first-ever game in the tournament, less than a year since the school attained full Division 1 status.
But if the Cinderella story continues, a champion's feast will await the Norse: all of them. That's because the owner of a steakhouse near NKU's campus has pledged at least a $1 million worth of free dinners to all 15,000 undergraduates if the underdog basketball team pulls off an upset.
The news was confirmed multiple times by steakhouse owner Jeff Ruby himself via his Twitter account. According to his website, Ruby owns five high-end restaurants in three cities, one of which is only a few miles away from NKU's campus.
ESPN notes that in the past five tournaments, a 15 seed has beat a 2 seed — which would be the case if the Norse beat the Wildcats — four times or 20% of games, as Ruby tweeted. Still, the odds of NKU advancing in Friday's game are only 3%, based on projections by FiveThirtyEight. So there's a solid chance Ruby will not have to follow through on his million-dollar pledge.
But hungry NKU students face a better shot at their jackpot than other March Madness "steak"-holders: Warren Buffett's employees — who stand to get $1 million a year for life, pledged by Omaha billionaire, if they guess a perfect Sweet Sixteen bracket — face far lower odds: 0.1%.
Ruby's affinity for NKU is because his surrogate son attends the school, according to a statement provided to Cincinnati.com. Ruby said he wants to support the university's young basketball program.
If all 15,000 students were to take him up on his offer, he would have quite the tab to settle. Ruby estimates that if everyone ordered the cheapest steak on the menu the bill would be in excess of $750,000 all told, according to Cincinnati.com.
But, knowing the appetite of college kids, Ruby could end up dishing out a lot more cash, and he told Cincinnati.com the total will likely be in excess of $1 million. Most of Jeff Ruby's priciest steaks go for around $70 a pop, with a Japanese A5 Wagyu Tenderloin offered at "market price" that could cost more. Special sides and sauces cost extra, per the menu.
Ruby's steakhouse didn't immediately respond to Mic's email for comment on the timing of the promised steak dinners — or whether wine will be included.
Sign up for The Payoff — your weekly crash course on how to live your best financial life. Additionally, for all your burning money questions, check out Mic's credit, savings, career, investing and health care hubs for more information — that pays off.