Kendall Jenner's home reportedly burglarized, $200k in jewelry stolen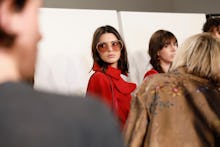 Kendall Jenner is the latest member of the Kardashian-Jenner clan to be the victim of burglary, according to a TMZ report. 
The model and reality TV star reportedly left her home in the Hollywood Hills on Wednesday around noon, returning around 8 p.m. to discover some $200,000 of jewelry missing from her bedroom.
TMZ's sources told the outlet that there had been no signs of forced entry and no suspects as police launch their investigation.
The incident comes five months after Kim Kardashian West was robbed at gunpoint in her Paris hotel room by two burglars who walked away with millions of dollars of jewelry. 
Following the attack — during which time she was also tied up and locked in the bathroom — Kardashian West went on hiatus from social media and made few public appearances.
Kardashian West broke her silence about the burglary on Sunday's season premiere of Keeping Up with the Kardashians, telling her sisters that she remembers thinking the robbers were going to shoot her in the head.