Are Frank Ocean and Chanel collaborating? Cryptic Instagrams suggest maybe so.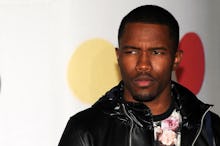 Late on Friday night, Frank Ocean released his new single "Chanel," which saw some critics calling the understated track his "most dualistic work yet" and others a "bi anthem."
The use of the brand Chanel was apt, with the image of Chanel's interlocking 'C' logo engrained in many of our minds as some of the most iconic fashion images to emerge over the last century — a clear symbol that no matter what direction you look at it from, can only be Chanel.
So is it just coincidence, or is there a deeper message to it?
On Wednesday afternoon, Chanel posted two images on Instagram. The first: two rectangles, one black, one white, forming one larger rectangle. "We see both sides like Frank," the image reads. The second image was also a pair of rectangles, the word OCEAN in one (overlaying a literal ocean) and LAND in the other (overlaying an extended hand clasping a bottle of Chanel No. 5).
"We see both sides like Frank Ocean," both captions read using the hashtags #YouKnowMeAndYouDont #FrankOcean #CHANEL.
So is there some secret to be unlocked from that first hashtag? Not exactly. Chanel has been using that hashtag for their campaign dedicated to the new No. 5 as far back as October 2016, when Lily-Rose Depp appeared in a campaign for the relaunch.
But perhaps therein lies an important clue. Back in March 2016, Mic reported that Chanel was going gender-fluid with its debut "unisex" perfume called Boy Chanel. "Gender is given by the person wearing it," the brand's perfumer, Olivier Polge, told Women's Wear Daily at the time. Since its release, the brand has yet to create a campaign around it. Might Ocean be in its purview?
The timing seems especially right. On Wednesday, Chanel's Karl Lagerfeld debuted his first gender-fluid handbag in a campaign with Kristen Stewart and Pharrell Williams.
Could all of these factors mean Ocean is working on a campaign with Chanel? Or is he creating his own perfume for the iconic fashion house? Time will only tell. For now, we'll keep sniffing for clues.