Hanson 2017 Tour: Concert dates, locations and how to buy tickets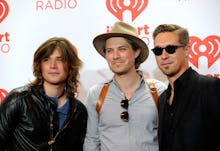 If a Hanson tour was on your 2017 to-do list, you're in luck. The band of brothers is going on tour this year to celebrate the 20th anniversary of "MMMBop," its iconic '90s anthem. 
Hanson announced their Middle of Everywhere 25th Anniversary world tour on Tuesday. Because in addition to the "MMMBop"-versary, 2017 marks 25 years of the band's existence. 
Adding to the festivities, the band also teased a new song called "I Was Born," with an acoustic video on Twitter. It also happened to be Taylor Hanson's birthday, so all the more reason to celebrate being born.
We also can't forget that the group is releasing a Christmas album, Ooh Christmas, later this year. 
How to buy tickets 
To prepare for the big tour, make sure to check the full list of Hanson's North American tour dates below. The band is hitting a lot of stops across the United States and Canada to celebrate. Tickets go on sale to the general public on Saturday, March 18 at 10 a.m. in the time zone local to the concert venue. 
Cities and dates
Zac, Isaac and Taylor will begin the North American part of their world tour on Sept. 12 in Dallas. The tour makes its final stop on Oct. 27 in Houston. Check the full list of tour dates for the Middle of Everywhere 25th Anniversary tour below: 
Sept. 12: Dallas — House Of Blues
Mic has ongoing music coverage. Please follow our main music hub here.