As Trump's Muslim ban gets shot down, his adviser faces problems with Nazi ban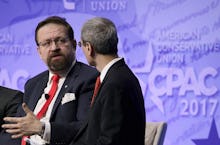 Just as a federal judge blocked the implementation of President Donald Trump's second attempt to banning entry to the U.S. by citizens of several Muslim-majority countries, one of his advisers is facing his own questions about another restriction on immigration to America, according to a new report.
An article in the Jewish Daily Forward claimed that Trump counterterrorism adviser Sebastian Gorka is an official member of Vitézi Rend, a far-right Hungarian group with historical ties to the country's early-century leader, a Nazi collaborator. If that's true, Gorgka's ties to the group could potentially jeopardize his immigration status.
According to the Forward, Vitézi Rend leaders said that Gorka took a lifelong oath to the group, which the State Department includes on a list of organizations that worked at the direction of Nazi Germany during World War II. 
The U.S. Immigration and Nationality Act "renders ineligible for a visa any alien who participated in the persecution of any person because of race, religion, national origin or political opinion during the period from March 23, 1933, to May 8, 1945, under the direction of or in association with the Nazi Government of Germany or an allied or occupied government" — and lists Vitézi Rend by name under its list of Hungarian groups. 
Under that law, if Gorka did not disclose or explain his affiliation during the immigration process, any formal association with Vitézi Rend could cost him his immigration status in the U.S.
Asked about the allegations in the Forward by BuzzFeed, Gorka repeatedly told a reporter, "Send a request to White House press."
The original Vitézi Rend was disbanded but reconstituted after Hungary's communist government fell in 1989. The reconstituted order, according to the Forward, has two splinter factions; Gorka reportedly belongs to one called Historical Vitézi Rend. "Though it is not known to engage in violence, the Historical Vitézi Rend upholds all the nationalist and oftentimes racial principles of the original group," the Forward reported.
However, according to an authority on immigration law interviewed by the Forward, Gorka still would have had an obligation to explain his membership in the reconstructed group. If Gorka didn't disclose the affiliation to immigration officials, it could bring his status into question. "My view is that it would be a legitimate case — difficult and challenging, but I believe winnable," Bruce Einhorn, a former immigration judge who also headed up a defunct State Department office that found and deported Nazis, told the Forward. 
As an adviser to Trump, Gorka has defended the president's ban on immigrants from several Muslim-majority countries and expressed open hostility toward Islam as a religion. On Wednesday, a Hawaii court temporarily blocked the second version of Trump's travel ban.
Gorka's association with Vitézi Rend was first reported by Lobeblog, a foreign policy news website, when it was discovered that Gorka wore a medal associated with the group to Trump's inauguration. Gorka claimed he was wearing the medal in honor of his father's fight against communism. He told Breitbart the medal was a "remembrance of what my family went through and what it represents today, to me, as an American."
The Forward interviewed two members of Vitézi Rend, who confirmed Gorka's membership, Gyula Soltész, "a high-ranking member of the Vitézi Rend's central apparatus" and Kornél Pintér, the leader of a regional group who befriended Gorka's father.
"Of course he was sworn in," Pintér told the Forward. "I met with him in Sopron. His father introduced him." The far-right leader later added, "In today's world it is rare to meet anyone as well-bred as Sebastian or his father, Pali."
The Forward noted that Gorka has, on at least two occasions, used a lowercase "v" as a middle initial — Sebastian L. v. Gorka — an indication of membership in Vitézi Rend. He used the initial both in his 2008 doctoral thesis and in testimony before Congress in 2011. A member of the group told the Forward that one may only use the initial after taking the Vitézi Rend — a lifelong pledge to both the nation of Hungary and the order itself.
Hours after directing BuzzFeed's inquiry to the White House, Gorka denied the allegations to another outlet.
"I have never been a member of the Vitez Rend," Gorka told Tablet magazine. "I have never taken an oath of loyalty to the Vitez Rend. Since childhood, I have occasionally worn my father's medal and used the 'V' initial to honor his struggle against totalitarianism."
March 16, 2017, 3:51 p.m.: This story has been updated.