France Shooting: Terror warning issued after school shooting in Grasse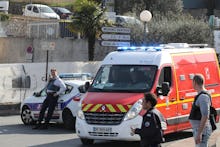 The French government has issued a terror warning following a Thursday shooting at a secondary school in Grasse, France. 
Eight people were injured in the shooting, which took place at the Alexis de Tocqueville A-level college, according to CNN. Police responded at the school and arrested a 17-year-old carrying a rifle, a handgun, a revolver and two grenades. 
According to CNN, a student named Andreas told news outlet BFMTV, "It was a complete panic. We went up to be safe. It was like being in a movie. We are not used to that." 
The student added, "We hear stuff going on in Paris but now we understand."
According to the Telegraph, the town hall of Grasse said the shooting was linked to a "dispute between students." Two teens entered the school and tried to shoot another student. The interior ministry later said it was only one student, who appeared to be targeting the headmaster. 
The same day in France, a letter bomb exploded at the International Monetary Fund office in Paris, injuring one employee.