Trump's budget would "significantly" cut financial aid to low-income college students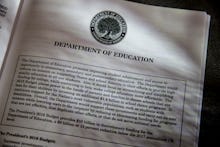 President Donald Trump released his federal budget blueprint on Thursday, a document that could have a serious impact on low-income college students across the country. Trump's budget proposal would cut $9 billion from the Department of Education — amounting to a 13% reduction in the department's funding. 
Included in the proposed $9 billion reduction are cuts to financial aid to low-income Americans seeking to earn a college degree.
That means the Federal Supplemental Educational Opportunity Grant program — which gives grants up to $4,000 to "financially needy undergraduate students, who have not earned a bachelor's or professional degree," according to the Department of Education — would be completely eliminated. According to the budget, the program would be cut in an effort to, "reduce complexity in financial student aid and save $732 million."
Trump's budget blueprint would also "significantly" reduce funding to the Federal Work-Study program — which gives colleges and universities across the country funding to employ needy undergraduate and graduate students in on-campus jobs, according to the Department of Education.
And the Pell Grant program — which awards needy undergraduate students up to $5,920 — would also see a $3.9 billion cut if Congress adopted Trump's budget proposal. According to Trump's budget, the $3.9 billion in cuts would be from "unobligated carryover funding" in an effort to leave "the Pell program on sound footing for the next decade."
Of course, presidents do not have the power of the purse. Congress has the task of actually appropriating funds. That makes the president's budget merely a blueprint of his funding goals. But even if these cuts don't come to fruition, they show where a president's priorities stand.
Democrats quickly jumped to attack Trump's budget. House Minority Leader Nancy Pelosi said Trump's cuts would "hollow out our economy and endanger working families."
"Throwing billions at defense while ransacking America's investments in jobs, education, clean energy and lifesaving medical research will leave our nation weakened," Pelosi said in a statement.
Sen. Bernie Sanders called Trump's proposal "morally obscene."
"It will cause devastating pain to the very people Trump promised to help during the campaign," Sanders said in a statement. "At a time of massive income and wealth inequality, when 43 million Americans are living in poverty and half of older Americans have no retirement savings, we should not slash programs that senior citizens, children and working people rely on in order to provide a massive increase in spending to the military-industrial complex."