James Corden makes a wonderful Belle in 'Beauty and the Beast' sketch for 'Late Late Show'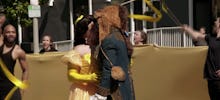 Following artistic dreams involves taking risks — even if that risk is being run over in traffic in Los Angeles. On Wednesday's episode of The Late Late Show, cast members of the live-action Beauty and the Beast joined host James Corden to perform the Disney musical in the middle of a busy city crosswalk. 
Joined by an eager ensemble and film stars Luke Evans, Josh Gad and Dan Stevens, Corden and company took to the streets to perform musical numbers from the film during traffic changes. Corden acted as director and star, leading the group in warm-ups and a trust fall game (that didn't go as planned), before they donned their costumes and ran into traffic. 
Corden played Belle, complete with a wig and the iconic yellow dress (but he failed to shave his stubble, which provided a marked contrast to the feminine costumes). The sincerity of the company proved to be puzzling to the unsuspecting drivers who were slowed down due to the troupe, even though the actors frantically ran off the street each time the traffic light changed. 
Performing in traffic provided new challenges for Gad, a Tony-nominated Broadway veteran who has performed live many times. He confided to the camera, "You want to say 'Be our guest!' But at the same time, you want to say, 'Stay there! Don't run me over!'" And Stevens was forced to face his fear of being hit by a car, thanks to a little encouragement from Corden. 
Corden is no stranger to musicals. He hosted the 2016 Tony Awards and also won a Tony in 2012 for his performance in One Man, Two Guvnors. He frequently features and performs in musical numbers on The Late Late Show and in his "Carpool Karaoke" segments, performing alongside Paula Abdul, the Backstreet Boys, Hamilton creator Lin-Manuel Miranda and, recently, a Broadway riff-off with fellow Tony winner Neil Patrick Harris. 
Mic has ongoing Beauty and the Beast coverage. Please visit our main Beauty and the Beast hub.