'Red Dead Redemption 2' Release Date Rumors: Fans find hints about 'RDR 2' on social media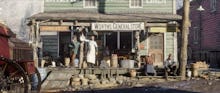 If you're a Rockstar Games fan, or just a fan of the Old West in general, it's hard not to be excited about Red Dead Redemption 2, the upcoming open-world Wild West sequel. 
We still don't know a ton about it, in spite of its release date still being the nebulous fall of 2017. However, some fans are so excited about Red Dead Redemption 2 that they've gone snooping in some strange places to find out whatever they can about the game.
Red Dead Redemption 2 release date: Social media and IMDB provide clues
According to reporting by Kotaku, a preferred theory for the game is that it's actually a prequel to the first Red Dead Redemption, and posters on the GTA Forums have done a pretty surprising amount of legwork to find out what they can about confirming this theory.
Some pieces of information that have been dug up, like a one poster finding the resumé of an actor online who claims to have done motion capture for Dutch (a character who dies in the original RDR) in Red Dead Redemption 2, make for a pretty compelling argument that the game will in fact be a prequel, telling the story of John Marston and his gang before they went their separate ways.
Other pieces of information, like how a lot of the voice actors from RDR1 are following each other on Twitter, or how a voice actor who allegedly sounds a lot like the narrator from the Red Dead Redemption 2 trailer liked an RDR2 speculation video on YouTube, are decidedly less compelling evidence.
Per the Kotaku piece, the most recent development in this search for answers is that two posters on the GTA Forums found that, along with following each other on Twitter, many of the voice actors from the original Red Dead Redemption are friends on Facebook with two actors, Cali Moore and Noshir Dalal, who are not yet currently associated with Red Dead Redemption 2 (per their IMDB pages, at least). 
Whether you find the social media sleuthing admirable, weird or a little of both, it's hard to deny that the GTA Forums have put in a lot of legwork towards finding out any details they can about the upcoming Rockstar Game. With Rockstar being so tight-lipped about its development, it's not a stretch to assume we'll be getting more info about Red Dead Redemption 2 in the coming months from the GTA Forums than we will from the developer itself. How much of that info proves to be true is anyone's guess, but at least they're excited about it.
More gaming news and updates
Check out the latest from Mic, including our deep dive into how female Overwatch players are dealing with online harassment, a cool making-of video for Legend of Zelda: Breath of the Wild and an investigation into what a Bechdel test for gaming might look like.