Former NYPD sergeant sentenced to just 3 years for rape of 13-year-old girl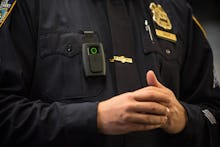 A Bronx Supreme Court justice sentenced former New York City Police Department sergeant Vladimir Krull to just three years in prison for repeated sexual abuse of his then-girlfriend's 13-year-old daughter.
According to the New York Times, the first incident occurred in September 2013 when Krull kissed the teen on the mouth. There were three subsequent instances of sexual assault — two involving sexual intercourse and the third involving Krull demanding that the girl perform oral sex on him following a father-daughter breakfast the two attended at her school. 
In January, a jury convicted Krull on two counts of rape, two counts of a criminal sex act, three counts of sexual abuse and one count of endangering the welfare of a child. 
"The defendant horrifically abused the trust of this family and engaged in sexual acts with a child," Bronx District Attorney Darcel Clark said in a statement at the time of Krull's conviction. "He now faces prison time for his depravity, and I hope his conviction reinforces the message that we do not stop until we get justice for the most vulnerable of victims."
With Krull facing a possible 21-year sentence, it once seemed justice might be within reach.
Assistant District Attorney Astrid Borgstedt argued Monday against Krull's light sentencing, emphasizing the former law enforcement officer shouldn't be considered "above the law." She called for Krull to serve 15 years, calling his actions "despicable." 
Krull has left a family traumatized and broken in his wake.
The victim's mother said her daughter's abuse left her with "situational depression," telling the judge she "lost trust in everyone," especially herself.
The victim, now 16, told the Bronx judge on Monday she thought Krull took advantage of her due to the absence of her father, who died in 2012. She said the aftermath of the sexual abuse has been difficult not just for her, but for her mother and their relationship.
"I still struggle with the feeling that I betrayed her, and I feel guilty sometimes," the victim said.
She added, "I used to feel like I had endless options. Now I feel limited."