What time will Drake's 'More Life' be released on March 18?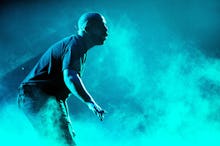 Drake's long-awaited More Life, a playlist that is expected to have features from artists under his own OVO Sound label and other big names in the industry, drops on Saturday, March 18. 
The official release time for Drizzy's new project was revealed on his Instagram late Friday night. More Life will be released via his OVO Sound Radio on Apple Music, where he previously debuted three songs on the playlist: "Sneakin'" featuring 21 Savage, "Fake Love" and "Two Birds, One Stone." The show — which broadcasts upon announcement via social media — airs on Saturdays at 6 p.m. Eastern. 
Drake announced in October 2016 that he would be releasing a new project via an interview on OVO Sound Radio. He explained its concept in this quote via Complex:
I'm off like mixtapes, I want to do a playlist. I want to give you a collection of songs that become the soundtrack to your life, so this More Life: The Playlist. Like I said, dropping in December. All original music from me. You might hear some tunes from the family on there. Just really excited. I had a great tour, I had a great summer. And most people would like go probably take a break, but for me I just want to get right back to it. Be with the people again.
Some of the artists that are expected to show up on the completed playlist include J. Lo, Bryson Tiller and Migos. 
The More Life cover features a throwback photo of Drake's father, Dennis Graham, as well as a credit to October Firm. The firm might be a collaboration between Drake and OVO co-founder Oliver El-Khatib. 
More Life will be the follow-up to Drake's 2016 Grammy-nominated album Views.
Saturday, March 18, 8:30 a.m. Eastern: This story has been updated.
Mic has ongoing Drake coverage. Please follow our Drake hub here.